"Everyone is sick!"  That is exactly what the nurse practitioner told me Saturday afternoon.  That certainly seems to be the case in my own family.  My thirteen year old has a terrible cold, complete with head ache and burning eyes.  The eight year old has been sick, off and on, for almost a month.  I took him in Saturday afternoon because his symptoms were beginning to sound very much like pneumonia.  Thankfully, his lungs sounded clear and his oxygen levels were perfect.  His glands and throat, though, looked very suspiciously like strep throat to the nurse practitioner.  As I type this, we are awaiting the culture results.   (EDITED TO ADD:  My son's throat culture came back positive for strep.  We were finally able to pick up his prescription at about 11:00 p.m. on Sunday night!  I'm thankful for antibiotics!)
Corin's family is REALLY sick!!  Check out her blog if you want the "graphic" details.  If you have a solid stomach, some of her details are side-splitting funny!!  For the rest of you, here are the more bland details.  My three year old grandson woke up during the night Friday night horribly sick to his stomach.  My  twenty-two month old granddaughter joined him Saturday afternoon, and by Sunday morning the almost five year old and Corin were all down with the stomach flu.  My poor son-in-love is holding down the fort and doing what he can to take care of them.  He knows I'm just a phone call away.  He's such a good guy, too!  He went out to buy Chinese take out for himself for dinner, and then sat in the drive way to eat it so that Corin didn't have to smell food!!!  I think he's a keeper!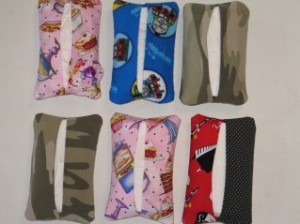 With so many loved ones sick, I pulled out the fabric scrap tub and cut out some travel tissue holders.  These  are so quick and easy to make!!  The pattern is Simplicity #9949.  I made my boys both camoflage tissue holders from the legs of an old pair of cammy pants.  My eldest grandson's tissue holder is a bright red and black musical instrument print, with a black and white polka dot print added for some whimsy.  I knew that the three year old's tissue holder had to be made from the scraps left over from the grandsons' Thomas the Tank Engine Christmas jammies!  That boy loves all of the trains from that book series, as well as the videos!!   My sweet granddaughter and my daughter both have theirs in a scrumptious pink print with all sorts of yummy desserts on them.  I know my granddaughter won't mind the print, but Corin may have to not look at hers for awhile!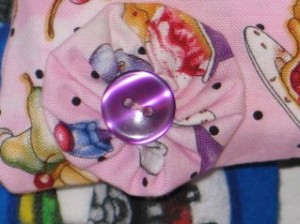 I wanted Corin's to be extra special, so I embellished her tissue holder with a yo-yo, finished off with a bright  purple button.  I had never, ever made a yo-yo before.  I found that it was very easy to do.  Quick, too!   I used this tutorial and I found her instructions very clear and easy to follow.  I know that I'll use these little yo-yo's for all sorts of embellishments from now on.  I don't think I'll find making them as addicting as others have; but, then again, I'm still trying to finish up some Christmas sewing.  Maybe, if I ever get all of my projects caught up, I'll find yo-yo making a nice handcraft.  Maybe.
We just received a brand new picture book
.   As yet, we've not had a chance to even look at it.   I think I'll see if there are any takers for a mid-afternoon read aloud!
God bless you as you look well to the ways of your households!
Proverbs 31:27