One of the things that motivated me most to re-work my kitchen was my desire to have an efficient baking center.
I had, over the course of the first few years we lived in this house, tried to establish a baking center in a couple of different areas. None of these really worked because they were too far from the sink (running water, a place to put messy bowls, etc.,) and too far from the fridge (for eggs, milk, etc.), or I didn't have adequate cabinet space for all of my baking things in one place (ingredients, measuring cups, mixing bowls).  Once I realized that I was not bound by someone else's notion of where things were supposed to go in my kitchen, I was free to look for ways to do things in my own kitchen that worked for me.  We women can allow ourselves to be so bound, at times, by rules!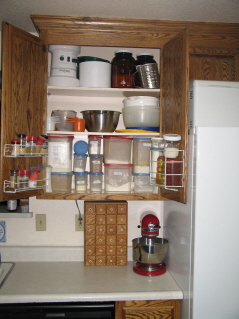 Even though my kitchen is good-sized, there really is not nearly enough counter space on the side of the kitchen  where the sink, stove and refrigerator are.  In fact, there is just one little counter to the right of the sink, (just three feet long), in this area, plus a sliver of counter to the left of the sink.  However, it is this small, three foot long counter that I am now happy to have as my baking center/food preparation area.  The only things that are permanently housed on the counter are my oak spice cabinet and my beloved red Kitchen-Aid Mixer.  Nothing else is allowed to stand on this counter unless it is in use.
The lowest shelf of the cabinet above this counter holds our most commonly used baking items (flour, sugar, brown sugar, salt, baking mix, etc.)  The wire rack on the door to the right holds my bottle of all-purpose oil, our homemade vanilla, and the smaller containers of baking soda and baking powder.  The middle shelf is where I store all of my mixing cups, mixing bowls and the bowls I use most often for food preparation.  The top shelf holds my grain mill, the jars of wheat berries (one jar of hard wheat, one jar of soft wheat) and the sifter.  Since I use this area for food preparation, as well as for baking, the  cabinet door on the left holds several of my cooking seasonings.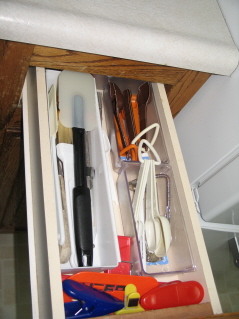 The small drawer just below and on the right of this area holds dividers for measuring  spoons, bowl scrapers, small whisks, as well as other items needed for food preparation.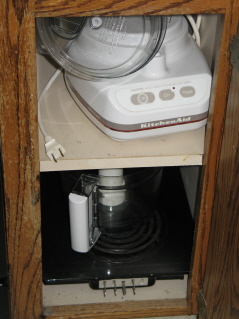 There is also a small, narrow cabinet under this counter, to the right of the dishwasher.  This cabinet houses my food processor and its box of blades and attachments, as well as the additional bank of burners for my range (my stove is just behind me as I stand at this counter).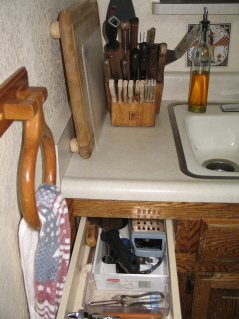 Food preparation, of course, requires the use of knives and cuttingboards.  I use the little 11" sliver of counter just to the left of my sink for my knife block.  The cutting boards stand on end between the knife block and wall.  The rather small drawer just under this little sliver of counter holds my "sharp" utensils – peeler, can opener, grater, pizza wheel, ice picks, etc.   I can reach all of my knives and my cutting boards quite easily from the food preparation counter.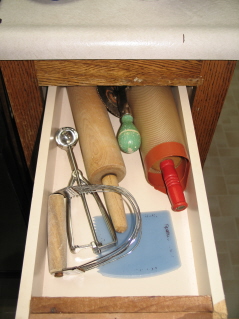 There are a few larger items necessary for baking and cooking,  my rolling pins, hand egg beater and pastry cutter, to name a few, that are housed in the little drawer to the right of my stove. Again, these are right behind me as I stand at this food prep counter.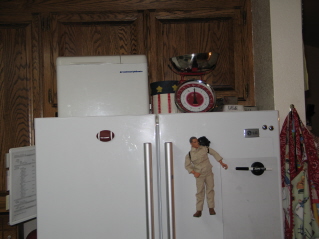 My refrigerator is just to the right of the food prep/baking center area. This allows me to quickly access cold ingredients when I'm cooking or baking. Since I use a bread machine to bake bread, I keep the bread machine on top of the fridge when it is not in use.  And yes, G.I. Joe is still holding court on the front of the fridge!
It is now possible for me to bake almost anything, and to prepare the majority of our meals, without needing to leave this food prep area.  With the sink to my left, the fridge to my right and the stove and oven just behind me, I can cook the way *I* cook best – cleaning up a as I go, being able to keep an eye on things as they cook, and still being able to work on a side dish or salad all at once.  Multi-tasking?  You betchya!   Again, as I mentioned in the previous posts, I concentrated on how *I* cooked and what would work best for me.  I also realized that keeping like things together was the most efficient thing for me.  You, however, may have separate areas for baking and other food preparation.  If  that is the case, you would want to arrange things much differently.
Your goal, in revamping a less than pefect kitchen, is to be able to work cheefully as well as efficiently.  Your goal, as a women of God, wife and mother, is to serve your family and guests as unto the Lord.  With this in mind, remember that our hearts may need a revamping as well as our kitchens!