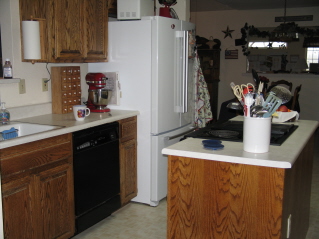 The heart of the kitchen is definitely her hearth.  Most of us no longer prepare our family's meals over an open fire, but our kitchen stoves serve the same function.  (By the way, I have had to cook my family a few meals on our wood stove during power outages. I am so thankful for my electric range!).  There will be a second post today sharing some ideas of what you can do if your oven or cook top is on the blink.  This post, however, will address making the cooking area in the kitchen you have more efficient using, primarily, what you already own.
The key to being content in your kitchen, no matter how small, no matter how dated, no matter how ugly, no matter how…….you get the idea, is to first of all BE THANKFUL!  You have a kitchen!  The oven might not work.  Maybe you have a burner that is unpredictable. You might not have an automatic dishwasher.  Maybe there is not quite enough room to turn around, but you still have a kitchen!!  Thank God for that!  While I plan to spend a few days sharing with you how I have learned to function in my less than perfect kitchen here, you will have to do your own praying and thinking about what will work for you in your kitchen for you and your family.  I cannot do this for you.  My aim is to inspire you to look at what you have, or what you might easily obtain, and use that to improve your efficiency of your kitchen.
The first thing you will need to do is pay careful attention to the most common tasks you perform in your kitchen. What are the utensils, pans, appliances you use most frequently?  What things are almost always used together (measuring cups & mixing bowls, for example)?  I could get really fancy and call this a time and motion study, but what you really need to do is THINK about what you are doing.  When I did this, I kept a wire notebook in the kitchen and took notes.  Yes, this took a bit of my time for a week or so, but the benefits far outweighed the time spent in the long run.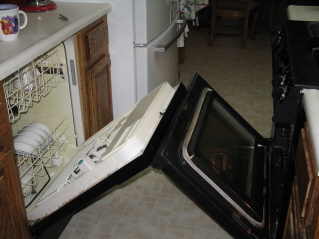 Today, let's talk about the cooking area.
I will tell you, whoever designed my kitchen just was not thinking.  The oven door and the dishwasher door  open into each other!!  Now, if this was a one-cook household, that might not be a problem.  But it's not!! There are two active cooks in our home (Dani and myself), and two sons who each have their own kitchen duties.  However, this is just one of those less-than-perfect things that we've had to learn to live with.  Only one of these doors can be open at a time.  Period.  If you run into obstacles like this, just grin and move on.  Like I said, I'm thankful that I have an oven and a dishwasher!
I have two tiny little cupboards on either side of my range.  Originally they both had a single shelf in the middle forming four tiny, but deep compartments.  For the longest while I insisted on keeping my pots and pans in the cupboard on the right side of the stove.  After all, your pots and pans are supposed to be stored next to the stove, right?  The pan I needed was always (Yes, ALWAYS!) in the back of the deep cupboard.  This meant pulling out the front stack of pots and pans, then getting out the pan I needed, then replacing the first stack, all while kneeling or sitting on the kitchen floor so that I could reach way back into this deep area.
At this same time, the frying pans were in the bank of cabinets behind and across from the stove and were BEHIND my larger pots.  The baking sheets, muffin tins, large baking dishes, etc. were in the same bank of cabinets at the other end of the kitchen.  The cast iron cookware was stashed in a couple of different places.
I could not buy new cabinets, of course.  I could not create more space, either.  What did I have in my hand? What could be moved elsewhere to free up some space for pots, pans, cookie sheets, frying pans, etc., so that they could all be located closer to the stove?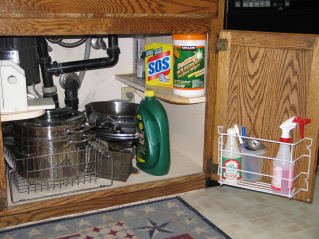 In my situation, the large area under the kitchen sink was the obvious choice as the sink is directly across from  the stove.  It was very easy to move the majority of my cleaning supplies to a cabinet over my washing machine. The remaining cleaning supplies, the ones that are necessary in and around the kitchen sink** fit either in an inexpensive wire holder affixed to the door, or on the tiny side shelf under the sink. The only cleaning product that remains on the floor of this cabinet is my bottle of dishwasher detergent. (Note: Until the great septic tank disaster of '07, I used powdered dishwasher detergent, which I stored in a Tupperware cereal container that FIT on that little side shelf.  I'm still thinking on what I might do with this bottle of dishwasher detergent that doesn't fit on or under the side shelf.) (**I'll be talking more about the sink area in the days to come.)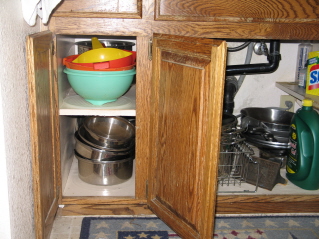 Now this is still not a perfect situation.  My smaller pots and pans are still in a small cabinet near the floor and I sometimes still  need to dig to the back for the one I need.  The cabinet is a bit wider than where they were, though, and not nearly as deep.   On the other hand, my larger, more frequently used pots are directly under the sink and very easy to get to.  The same with my non-stick frying pans.  I do have the big pots on a stainless steel roll out drawer.  My husband graciously worked some overtime to buy several of these roll out drawers for my kitchen a few years ago when I moved everything around. I'm spoiled, I know; but please also remember than I am 50 years old and have a bad back.  These roll out drawers have paid for themselves by saving me trips to the chiropractor!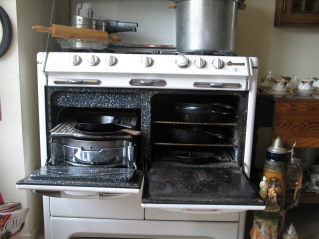 My cast iron cookware, which is my preferred method of cooking almost anything, was not being used  because it was too hard to get to and/or I had to spend too long looking for the piece I wanted to use.  It needed to all be in one place, and easy to get to.  My back will holler if I try to lift a heavy cast iron pan from a low shelf, so having them stored a bit higher was also a consideration.  I had no cabinet space left close to the stove, and no cabinet space at all where it would all fit together.  Or didn't I?  My parlor is just off of my kitchen and just steps from the stove.  I gathered all of the cast iron together and it is now all housed in my mom's old stove!  It seems a very appropriate solution since at least half of my cast iron once belonged to Mom.  The only piece of cast iron that doesn't fit in the stove is my huge dutch oven, which I do not use often.  It is stored in the linen closet.  I now use my cast iron cookware all of the time because I can get to it!!!!!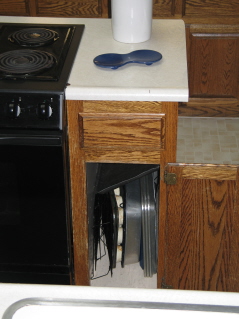 Back inside the kitchen and to the right of the stove, Copper removed the one shelf that divided that cabinet.  I  was hopeful that I could then store my big cookie sheets and my two big baking pans there.  I was pleasantly surprised at how much room really was under there!!  This area is now able to house my three large cookie sheets, one smaller cookie sheet, two large 10×15 baking pans, two regular size muffin tins, one mini-muffin tin, a couple of pizza pans and my four cooling racks!!  Wow!!!!!  They are all stored on edge and it's a snap to pull out what I need.  The only things that are at all "difficult" to get to are the muffin tins, which fit inside the big baking pans.  No big deal.  I was especially pleased with this quick, no cost, fix!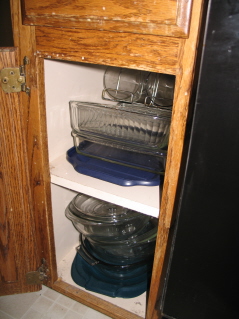 In the little cabinet to the left of the stove I now keep my round casserole dishes, my small, square casserole dishes, a couple of Pyrex pie pans and my French bread baking tubes.  The casserole dishes that are used most frequently are in the front, those used less frequently in the back.  Again, this is still less than perfect, but it is a far more efficient arrangement.   As you may be able to see in the pictures, things do not fit well enough to stack neatly, but they are accessible when I need them.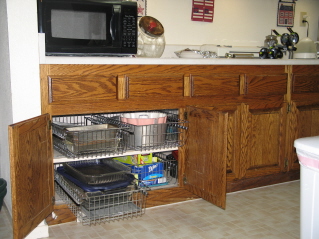 However, my 9 x 13 baking pans do not fit on this side of the kitchen at all.  They are now in the bank of cabinets behind and across from the stove, but to the far left, which is just a few steps away.   I also keep my cake pans, metal pie pans, and bread pans in this cabinet.   Again, these are on pull out drawers, but a frugal alternative will work just as well.  Simply measure the width of your door opening and the depth of your cabinet.  Then keep your eyes open for plastic or metal trays at the thrift store or garage sales.  You can stack your cupboard items on the tray, and slide it out to reach the things in the back without having to take the front items out.   Plastic dish pans of the right dimensions would work well, too.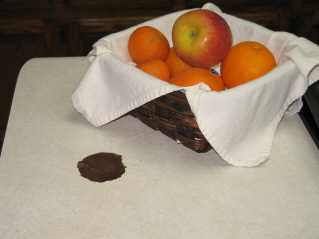 I like to keep my cooking spoons, etc., in a crock next to my stove. In my perfect kitchen, these would be kept in a drawer next to the stove where they would stay clean.  My kitchen here not only does not have adequate drawer space for this, but I also inherited some unsightly burns on the countertop that I covered with my utensil crock.  Killing two birds with one stone is always a plus! (Ditto for the placement of the fruit basket on the other side of the stove!)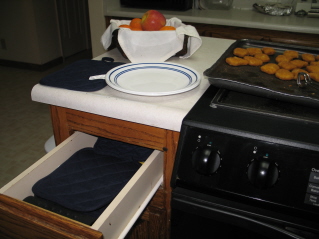 The pot holders are kept handy in the small drawer to the left of the stove.
Re-arranging the items necessary for my normal, day to day, cooking has made my kitchen much more efficient.  The only money spent was for a few plastic coated wire holders that screw onto the doors ($1 – $4 each) and the roll out drawers that my husband bought me.  Everything else was done at no cost, just by thinking things through and then re-arranging to be more efficient.
What things do you use several times throughout the week as you cook for your family?  Are they stored where they are the most handy and easy to use?  Can you move them to an area that is more efficient?  Spend some time thinking about this while you are preparing meals during the next few days.
In the next few days I'll be discussing:
The wet area – sink, washing, cleaning, beverage prep. and serving, etc.
The baking area – everything in one place
Food prep area – cutting boards, knives, bowls, spices, etc.
Food storage containers, wraps, bulk shopping supplies, etc.
Dishes – washing, serving, setting the table, etc.
One more little note – these next few days are the days in my normal homekeeping routine that I concentrate on doing the monthly, quarterly, semi-annual, etc., chores in my kitchen area.  That means that I have been able to remove everything from under the sink and wipe it all out before taking the pictures to show you!   Again, just killing two birds with one stone!