I mentioned yesterday the broken window philosophy I'd recently read about.  I realized today that my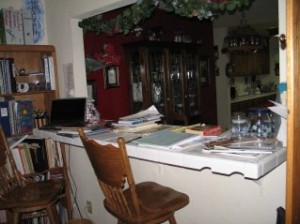 breakfast bar is a broken window in my home.  It not only collects clutter on a daily basis, but causes more clutter to accumulate on the bar stools in front of it, and then onto the computer desk next door and then even further.  I clean up and declutter this area frequently, but stuff still gets piled up here.  How, I asked myself, can I stop this vicious cycle?
The first thing I did, prompted by Susan's Declutter Challenge over at With Heart and Hand By Grace, was to clean this mess up!!!  Just as Susan found today, this took far less time than I thought it would.  The first thing was to remove the snowmen decorations that were on display for the month of January.  Then I sorted through the piles.
The first pile was a stack of about six books that the thirteen year old had finished for school.  I recorded the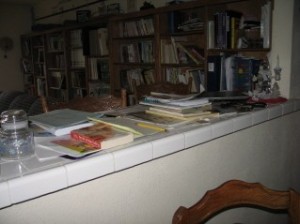 necessary information on my laptop, put the dust jackets back on the books that have them and re-shelved them on the book shelves.
Next, I sorted through all of the catalogues that have arrived in the last two or three weeks.  I took down the catalogue holders,  removed the older editions of the ones that were new, and replaced them with the new ones.  I also had a few coupons and coupon books.  I found a place where they would be neatly contained, but where I wouldn't forget them come shopping day.  Having a place to put these things that come in the mail is the key!!
Finally, I corralled all of the correction keys, boys' chore charts, etc. that I use to keep track of things throughout the day and put them back onto my clipboard where they belong!  The clipboard was put back into the wall pocket where it belongs.
I then sprayed down my counter top with Red Juice and wiped it all down.   I brought my cute little Uncle Sam lamp back to the counter (he's been put away since December) and plugged him in.  Voila!!  Command Central is now back in operating order.  I spent less than half an hour total on this.  But how, oh how, I thought, will I keep this from happening over and over and over?  Having this area cleared off, with room to work, is vital for me.  Here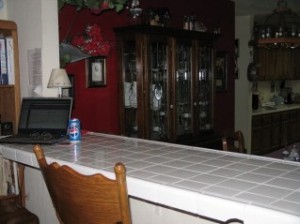 is where I keep track of all of my household routines and our homeschooling on my laptop.  Here is where I correct the boys' homeschool papers.  This is, generally, where I prefer to open the day's mail.  This is the area where I do my homeschool planning.
I realized that I did not have a plan for dealing with this area on a daily basis.  Nowhere was it in either my  written daily routines, nor even in my mental daily routines, to take care of this area DAILY!!  With a few strokes on the keyboard, that was remedied.  I now have it written down as a reminder to myself to neaten & straighten the breakfast bar/command central every afternoon.  They say that it takes three weeks to formulate a new habit or routine, so I guess if I can keep things neat as a pin for three weeks, it will be a fixed habit.  I hope so.
God bless you as you look well to the ways of your households!
Proverbs 31:27