We were blessed with another lamb on Tuesday!  A single birth this time (twins are the norm), but this little guy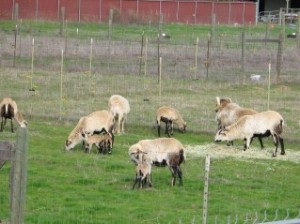 is big!!!  The new lamb and his mother are in the foreground of this picture, and our twin Valentine's Day lambs and their mother are just to the left.  The Tuesday lamb is as big, if not a bit bigger, than his six day old half-brothers!!  He's a beautiful little guy, very light, and the whole top of his head is white.  That's quite a break from the normal markings of this breed.
We are a bit disappointed in having a third ram lamb.  A few years ago we lost several sheep to a parasite, and then about two years ago we lost several more to a pack of dogs.  Let me tell you, that was a heart breaking experience!  We are still re-building our herd, and having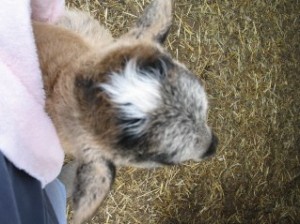 more ewes means the ability to have even more babies.  Still, I am beginning to see God's providence in even this.  While we would prefer ewe lambs for the obvious breeding reasons, they also do not require the neutering procedure that  the males do.  A good sized herd for our little property here would be about 14 or 15 sheep.  As of today, we have ten; and four of these are ewes.
Within the next year, if all four of the ewes lamb, we can expect to increase our herd to a total of 14 – 18 sheep.  We could then sell our ram, and just maintain the status quo for a few years.  If these last three lambs had all been females, one more breeding season would have seen us with way too many sheep to graze on our small  pasture.  So, while we are disappointed, a bit, and my husband will now have an unpleasant task to take care of with three ram lambs, I can see that God is watching over our little herd.  We are in a good place, number wise.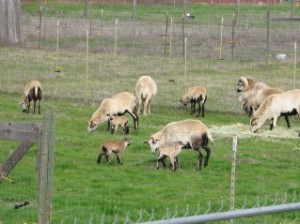 They are such silly critters, though!  Before we kept sheep, the Biblical accounts of sheep were not as meaningful to me as they now are!!  God compares us to sheep  many, many times in His Word; and I've got to tell you folks, sheep are not the brightest bulbs in the pack!  Today, one of the Valentine's Day lambs could not figure out where to head for his mid-afternoon snack.  He'd approach the new mom and would get a sip or two before she would discover that he was not her baby.  She'd quickly turn and head butt him away.  He looked so stunned and confused, but then he'd approach her again, only to be rebuffed again.  In the meantime, his mother was calling to him (from just steps away as you can see!), but he just stood there in the gap between the two ewes trying to decide which one was his mother.
I am enjoying this season of hearing the ewes' distinctive calls for their babies and the lamb's sweet bleats in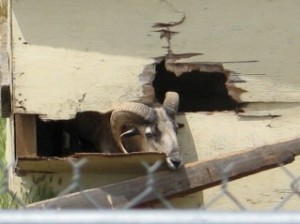 response.  I love watching the little lambs nurse – their little tails wag just as fast as ever they can while they're eating!  I like watching Papa Ram stand majestically, with his large rack of horns held high, watching over his family.  He carefully nudges the tiny lambs when they get in his way, and he more vigorously butts the older sheep when they begin to quarrel amongst themselves.  They are a pleasure to behold.  Well…….except when Papa Ram does something especially brilliant, like deciding to take a wall out of their shelter, and then getting his head stuck in the process!!
God bless you as you look well to the ways of your households!
Proverbs 31:27