I've had a couple of things in my home that have been stewing for quite awhile.  Had we taken care of them  when they first become problematic, I would have saved myself a lot of aggravation.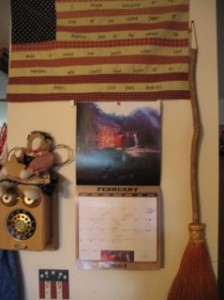 The family calendar hangs on a small side wall between my kitchen and the eating area.  It's been held up by a push pin.  When an appointment needs to be written down, down comes the calendar and back up it goes, with a new push pin hole in the wall.  When someone needs to look ahead to see what day of the week June 9 falls on, down comes the calendar and back up it goes, with a new push pin hole in the wall.  You get the picture.  Pretty soon, some of the little push pin holes merge into a larger hole.  It was getting to be pretty unsightly behind the calendar.
My husband mentioned picking up a corkboard strip when we were out shopping yesterday.  I felt so silly.  Of course!  A corkboard strip was perfect.  A two pack of these strips ran us six bucks and change.  (I already have a couple of ideas for what to do with the second one!)  The corkboard strip is attached to the wall with an adhesive strip.  Voila!  Not only did it solve the problem, but it also covered up all those ugly holes!!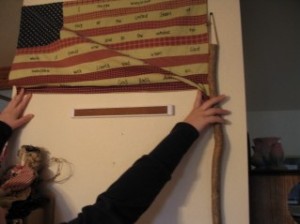 Our mud-room/sewing nook has had several brass coat hooks hung on the wall since the room addition  was completed about six years ago.  Copper used those good wall board screws to hang them up; but over the years too much weight has been hung on some of the hooks and they've pulled out of the wall.  Lately, the hooks have been falling off of the wall and landing in our poor dog's food and water bowls which are right underneath the hooks!  There was only one hook still anchored firmly enough to hold a jacket.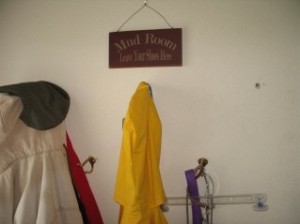 This afternoon I asked my husband if we had any left  over strips of wood from any of our projects.  I showed him the problem and suggested that we hang a piece of wood up, anchored securely into the studs, and then screw the coat hooks into that.  He found a strip of wood the right size, but then he went to "way yonder too much trouble for me".   He routed both long edges of the strip, giving it a lovely finished look; and then painted it to boot!   Thanks, Babe!  It looks great!  We now have a lovely, sturdy area to hang rain slickers, dog leashes, etc.  Since there are now plenty of hooks, I can  take advantage of one of them when I need to hang things temporarily during a sewing project as well.
Guess what else my husband did today?  He brought me a treat home from a quick trip to the grocery store.  Hmmm…..the wrapper says it's a "tear and share pack"…..yeah, right!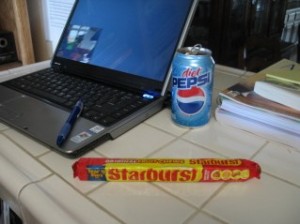 I love it when something that's been absolutely driving me crazy can be fixed so easily.  Are there any big aggravations around your home that can be handled with just a little fix?
God bless you as you look well to the ways of your households!
Proverbs 31:27