……but there sure was plenty of room for them to hide in my linen closet!!  This closet it just inside my front door,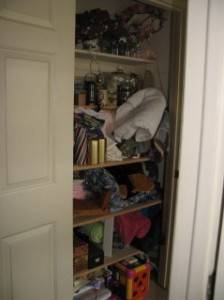 actually, but it's more in the hallway than in the entryway.  I am sure that it was originally intended to be a coat closet.  Our family, however, required something else from this closet.  A few years ago Copper built shelves into this closet for me (Shelves in the closet? Happy thought, indeed!).
For the last several months, this has been my linen closet.  However, it's also been a huge mess!!!
Using proper homemaking technique 
, I started at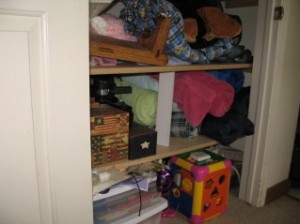 the top and worked my way toward the bottom of the closet.  As I worked, I emptied each shelf in succession, sprayed the shelf with Red Juice and wiped it down, and then began neatly replacing things.  The top shelf houses a few antique bale-top jars that I like to keep handy for storing little things here and there.  It'also the shelf where we keep our Christmas movies and CD's, as well as a HUGE (and very precious to me!) ceramic Christmas tray.  It's nice to have a few Christmas things stored here, because it gives us a place to put little odd ball Christmas things we find here and there after the rest of the Christmas stuff is stored away.  The second shelf is a very shallow little shelf and was original to the closet.  I use it to store all of our candles and candle paraphernalia.  The rest of the shelves were a hodge podge of sheets, blankets, towels, picture frames, etc., stuffed in wherever they would fit.  Thus the huge mess!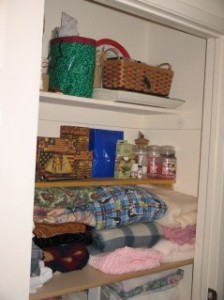 The top shelf was very quickly taken care of.  I did move ahead a bit and took all of the Christmas candles,  which were stored on the candle shelf, and put them all into a recycled Christmas gift bag.  They are now neatly contained in the Christmas gift bag on the shelf with the other Christmas things.  There are also two or three small gift items on this shelf for future gift giving.
I found a set of three Americana nesting boxes (which were a gift from a friend) in the closet and decided to use these to house some of my candle clutter stuff things.  These boxes now hold all of my votive holders, pillar candle holders, Yankee Candle votives, lamp rings, and my Yankee Candle tarts.  I love that I was able to use these boxes for something so practical!  I retrieved another recycled gift bag (dark blue to go with the Americana boxes) and poured my tea light candles into it.  Now these things are neatly housed and even look attractive, to my eye anyway, on the shelf!
After pulling out all of the various sheets, blankets, mattress pads, etc. from the other shelves, I sorted through and stacked what we had.  I stacked the twin size mattress pads (a couple of extras, just in case), and the three sets of sheets (one extra set for each of the kids' beds), on the left side of the third shelf.  I then folded the three extra twin size blankets on the right side of the closet.  There was then room in the middle to neatly fold and store various afghans, lap blankets and throws.
The fourth shelf now houses our pool towels, some seasonal and/or company table cloths, and my extra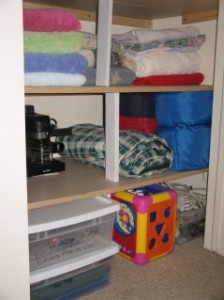 throw  rugs.  Truth be told, I didn't even know that these table cloths were in the closet.  That's certainly not looking well to the ways of my household.
The next shelf now holds the child-size sleeping bags (perfect for when the grandkids visit), and a couple of infrequently used kitchen items (the espresso machine and my big cast iron Dutch oven).
The bottom/floor level has the plastic tubs with my porch flags and window clings, the tub with the extra extension cords and surge protectors, as well as a much-loved baby toy that won't fit with the other toys for the grandkids' visits.
What I tossed away:  Several jar candles with an inch or so of wax left in them, worn out kid blankets, window clings that were faded and ugly, garlands and streamers from my husband's 50th birthday party, a set of sheets that were quite old and fit none of our beds, a crib size mattress pad with a torn corner, a couple of afghans that were either torn or badly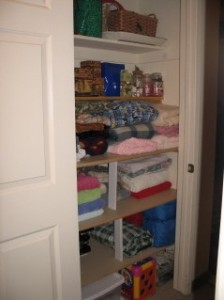 faded or both
What I moved to another location:  A large stack of picture frames (that's a project for another day!), a  bag of glass beads used to hold artificial flowers decoratively in a vase, an oak shelf that I'd like Copper to hang for me in the parlor, a few items that were stashed in the linen closet when we decorated for Christmas, two front door wreaths for use later in the year.
What I enjoy most:  Having everything neat and orderly, of course; but also the fact that I was able to use what I had on hand (the recycled gift bags and the nesting boxes) to help in organizing the closet and beautifying it at the same time
I have to admit, I've opened the door to the linen closet and peeked inside and admired my hard work a few times since I finished.  Next month, when it's my week to tend to the monthly/quarterly/semi-annual etc. chores in my hall way, it should take just a few minutes to be sure that things are neatly stored in the linen closet.  I can then use the time to tackle another unruly area!
God bless you as you look well to the ways of your household!
Proverbs 31:27
Remember to pray for Karen!