If I keep my pots, pans and frying pans under my kitchen sink, then where, pray tell, would I keep the items that are *supposed* to go in and around the sink?
Again, I studied how I used my kitchen for a week or so. Where did we make coffee and tea?  Where did I keep our mugs and drinking glasses?  Where did we keep the coffee beans and teas?  Well, as I'm sure most people do, I kept all of these things on the counter near or in the cabinets over the sink.  However, having glasses in the cupboard near the sink and our coffee pot and electric tea kettle on the only small counter next to the sink, meant that, in my less than perfect kitchen, I had no logical food preparation area, nor did I have a baking center that would work for me. (Stay tuned for how I carved these areas of out of our kitchen!)  But where on earth could the sink/wet/beverage center things go?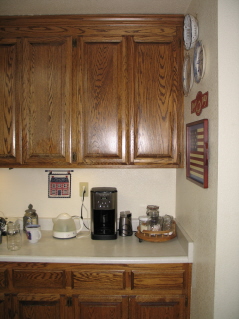 I answered my own question by simply turning around.  I do have an island that houses my stove smack dab in the middle of everything in my kitchen.  However, the island does not span the entire length of the kitchen. When I turn around from my kitchen sink, this is what I see.  A counter with cabinets above and below, as well as some drawer space.  Hmmmmmmm…..Yep, there was even an outlet there for the coffee maker and electric tea kettle.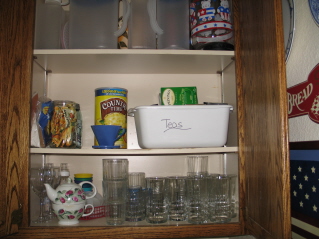 I ended up moving all of our drinking glasses to the lower shelf of  the upper cabinet, as well as a few mugs for our everyday use.  Grandma that I am, I even keep a stash of sippy cups and lids in this cabinet!  The second shelf holds all of our tea bags, packaged drink mixes, coffee filters, etc.  Again, in my perfect kitchen, my teas would be contained in a lovely, lined wicker basket, but in the meantime this 97¢ dish pan from WalMart does the job.  The top shelf holds our mixing pitchers for juice and Copper's kidney stone bustin' Country Time Lemonade.  If anyone needs a spoon to mix the pitcher of juice, they are just and arm's reach away on the counter in the crock next to the stove.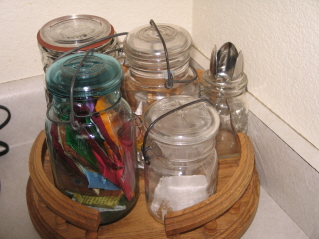 On the counter are Dani's coffee maker and coffee grinder, my electric tea kettle and a cute little turn table we received as a housewarming gift when we moved here.  The turn table holds jars with coffee beans, regular tea, specialty teas, Splenda and a few spoons.  We have everything we need to prepare any of our preferred beverages all in one place except for water; and water can be found by turning around and walking three steps to the sink!!!  In fact, once my tea kettle has been filled, there is no need to return to the sink for the rest of the tea brewing process.  Same with the coffee maker.
Having all of the beverage items here has helped things be much more efficient in the kitchen.  The area in and around my stove, where I prepare our meals, is quite tight; and now my family can help themselves to drinking glasses, or prepare a pitcher of juice without interfering with food prep or cooking.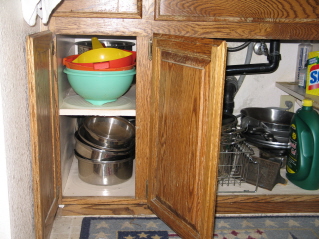 I do still have some necessary wet area items in the cabinet under my sink.  Some things really do just need to be by the sink.  In the cabinet to the left side of the sink are my colanders, a couple of small strainers and a funnel.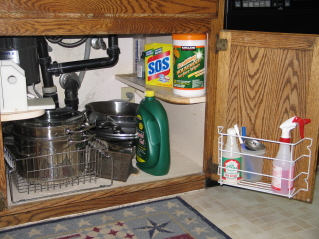 One door holds our sink cleaner, spray cleaner, and a container for scrubbing toothbrushes.  The little upper side-shelf on the right side of the sink holds my SOS** pads, plant food and our pool test kit.  Of course that big bottle of dishwasher detergent is there, too (still trying to figure out how to do something with that so that it fits on or under that little side shelf!!). **Frugal Tip – I love SOS Pads, but cannot stand keeping a used one.  Yuck!  I cut each and every SOS pad into quarters, which are just the perfect size for one use and then tossing away, guilt-free!
I think it's important, as much as is possible, for you to keep like things together in your kitchen.  All of our beverage making things (glasses, pitchers, tea bags, coffee, etc.) are all in one place.  However, by thinking outside of the box, and moving them a few steps away from the sink, I now have a very functional beverage center, and I was able to make room for an efficient baking center and free up the only logical counter for food preparation.  (Note – My married daughter, Corin, still looks for the drinking glasses in the cabinet they used to be in, even though they've been in their present location for more than two years!)
My kitchen, as you can see from the pictures, is still less than perfect.  My cabinets need refinishing, and my counter tops need replacing.  However, after much prayer and thought, not to mention hard work, I have been able to make my kitchen more efficient and better suited to the needs of my family.  What can you do in your kitchen with just a little thought and elbow grease to make it work better for you?