I am blessed to have quite a bit of storage space in my kitchen.  The fact that it is poorly arranged is something, as you've seen, that I've been able to work around.  Once I had the major components of my kitchen arranged (baking center, beverage center, food preparation area, etc.), I was able to see what cabinet space I still had left.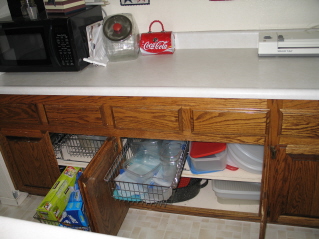 As I thought about where I would store my food wraps, food containers and bulk shopping supplies, I made it a priority, again, to keep like things together as much as possible.  I was able to put all of my food wraps – foil, plastic wrap, wax paper, various size zip-lock bags, onto one pull out in a lower cabinet.  None of my kitchen drawers are large enough to accommodate these items, or I would have used a regular drawer.
I used the cabinet just next to where the wraps are for my food containers.  Again, they are on a pull out drawer.  I do not keep very many of these as we generally do not have much in the way of left-overs after a meal!  My larger Tupperware pieces are on the shelf immediately underneath the smaller containers.
The wraps and the storage containers are in the bank of cabinets behind the stove.  This is a nice place to work on storing left overs after a meal.  Remember, I just have the one small counter on the other side of the kitchen and after a meal the dishwasher door is usually open, which would prohibit anyone from working at that counter.  Dani who does our after dinner clean up, can work on storing any left overs while my eight year old clears the dishes from the table and takes them  to the sink.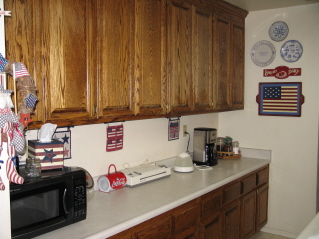 This long counter is also the place where we bring the bags of groceries in to be unloaded.  I am really  bummed that I didn't take pictures yesterday after Copper and I had done our shopping so you could see what this looks like!  With the bags up high on the counter, it's a piece of cake to pull out the things that need to go into the fridge or freezer, and then the things that need to be stored in the pantry.  We then re-bag things that need to go out into our long term storage and carry them out.  Next, we re-package any large packages of meat into meal-size portions and re-bag bulk cheeses into smaller portions and take these to the freezer. That leaves just the dry storage items that we have bought in bulk on the counter.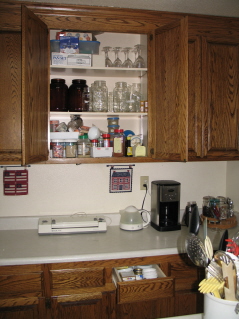 In an upper cabinet, I have several jars of various sizes that we use for our dry bulk food storage.  I have really large, dark gallon size jars, wide-mouth half gallon, quart and pint jars here.  I also have a wonderful vacuum sealer that I've had for about ten years now that has been kept on the counter just below.  The vacuum sealer has attachments that allow me to use regular canning jar lids to vacuum seal my bulk purchases in jars. I LOVE this thing! (It dawned on me yesterday that I really should store this in the cabinets below with all of my other small appliances.  I really only use this once every couple of weeks, and while I love it to pieces, it does not need to be out on the counter.  I can be pretty slooooow on the uptake sometimes!)
The attachments for the sealer are in the cabinet with the jars, and the jar lids are all in a drawer just below.  Dani and I can quickly fill and seal about 10 canning jars from our HUGE bag of Costco pretzels, vacuum seal bulk buy cereals into jars large enough for a breakfast or two, bulk grains, bulk dried fruits, bulk pastas, etc.   I use smaller, pint-size jars to vacuum seal our bulk herbs and spices.  (You will notice that we keep some infrequently used spices on the lower shelf, along with cake decorating supplies.  This counter area is a nice spot to decorate cakes, cupcakes, etc.  The top shelf holds springform pans, a cookie press and our extra wine glasses – all things that are infrequently used.)
Dealing with left overs and containers for bulk shopping are definitely a unique-to-you practice.  Does your family generate a lot of left-overs?  Do you save them for lunch the next day, or do you freeze them in one-person servings?  How about shopping?  Do you buy a lot of your groceries in bulk and then re-package them for dry storage or freezing?  These questions will guide you as you decide on the best ways to house the items you need for these processes.
Finally, I should tell you that the lower cabinets in this area are also where I store my small appliances – waffle iron, toaster, electric frying pan, crock pots, etc.  The remaining upper cabinets house our medicines and first aid supplies, and infrequently used serving items.  The drawers I have not already mentioned hold hand towels, dish towels, my white terry cooking towels, our mix-&-match flatware for when we host a crowd, small household tools, and that all-time kitchen favorite – the junk drawer.
Tomorrow I'll finish this series with some ideas on how to plan an overhaul of your less than perfect kitchen and what to expect on the day (or days) that you actually work on the refurbishing.