The only cure for Spring Fever is to give in to it!  Yesterday afternoon I decided to do what I could outside.  I  took down the hummingbird feeder and the decorative bird house from the back porch and washed them both.  We're out of hummingbird food, so the feeder is still in the kitchen.  Yes, yes, I do know how to make hummingbird food from "scratch", but we have a large population of hummers that visit our feeder in the summertime, and they seem to prefer the commercial stuff.  Go figure.  Dani planted my hanging begonia bulbs a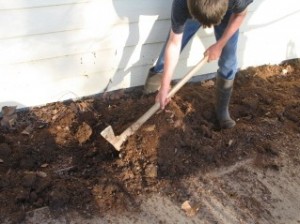 couple of weeks ago, but I didn't hang the pots up on the back porch until yesterday. I watered a bit.  I pulled a few weeds.  I puttered a bit.   I watered some more.  It was so lovely outside, I was really just enjoying being out of doors.
Before too long the thirteen year old came along wondering if I had any extra jobs that needed doing.  Don't get too excited.  While it is very cool that he asked me that, we do have an agreement with him that we will offer rewards for extra work
done.  I told him that I needed the soil in the front flower bed turned over, and then the big bag of peat moss worked in.  He went right to work!  He did a great job,  too!  He pulled out quite a few tree roots and other debris from the bed as he worked.  It took him about an hour to get the bed turned over, the peat worked in, and then everything leveled and the walkway swept up.  He did a good job!!!
Today we headed to the garden center.  Judging by the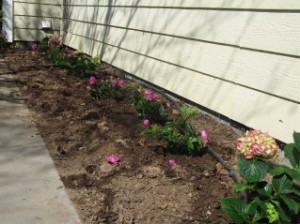 number of cars in the lot and the crowds inside, I'm not the only one itching to be outdoors!  I like to have flowers that are pink, red and purple hued in my front yard.  Dani found me six lovely almost purple azaleas in front of the garden center.  Unfortunately, I had to drive to a second store to find hydrangeas, but I did find them!  We came home and Dani and I had the plants in the ground in just a few minutes time.  My son did such a wonderful job of working up the soil in that flower bed, Dani and I were able to dig the holes with just our hands!  I will need to wait until next payday to buy the mulch to top dress the flower bed; and Copper will have to re-do the drip irrigation for the new plants when he has the time.  I'm so happy to have it all planted, though!
Here's one other small thing that we're working on.  These planters sit between the gates to my chicken and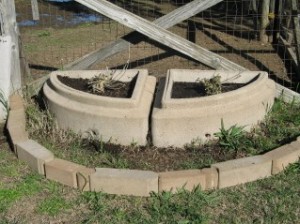 goat yards.  They are planted with orange & yellow Lantana.  My son and Dani helped me gently dig up the still dormant Lantana yesterday, refill the planters with potting soil and then replant the dormant bushes.  A few years ago I planted Dahlia in front of these planters and it was so pretty.  There was no way to separate the Dahlias from the country lawn (i.e. weeds) in that area, and it wasn't long before the Dahlias were just being mowed with the grass.  I had six linking border blocks from another project, and I tried using those to form a planting area in front of the Lantana.  They made it about half way.  I wasn't able to find exact matches today, but I bought a few that were similar and lined them up every other one with the old ones.  I think it will look nice!  I'll save up my garden pennies again and will buy some Dahlias to plant in there soon.  I'm sure that my son will willingly turn up the soil for me and help me work in some compost before we plant.
I know that some of you are still needing to shovel snow.  I know that others of you have already been out gardening for a couple of weeks.  What sorts of things are you finding to do now that spring is just a few days away?
God bless you as  you look well to the ways of your households!
Proverbs 31:27