I've mentioned here lately that I'm gearing up for homeschooling a high school boy this fall.  It's been awhile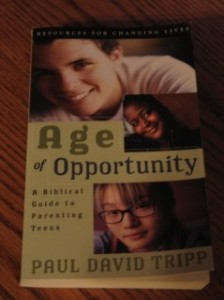 since the girls graduated, and I had forgotten a bit about the extra planning required for the high school years.  I'd also forgotten about the subtleties in parenting that change as our children mature.  My advance homeschool planning for fall caused me to reflect a bit on the way we parent our now thirteen year old son.  I bought Age of Opportunity: A Biblical Guide to Parenting Teens
at a homeschool conference almost two years ago, intending to read it then. Providentially, the homeschool planning I've been doing brought it to mind and I put it into the reading basket and dove in. One of the subtleties I've missed lately in my parenting is the fact that it's not good enough to catch my son doing wrong and then punish him for the wrong doing.  Okay, there you have it; I've been blowing it big time!  God faithfully grabbed me by the shoulders, though, and gave me a loving shake as I read this book.
Paul David Tripp's book is a wealth of encouragement and support in the Biblical methods of parenting teens. He does not give "how to" instructions, but instead refers us, as parents, repeatedly to the Scriptures and to the gospel message they contain as we come alongside our teens, and parent them.  Only by directing our children repeatedly to Christ can we succeed.  Our young adult children must come to understand that they are sinners in need of a Savior.  They need to be directed constantly to an understanding of who God is, and who they are.  We need to remember that their struggles with sin are not unique to them.  We struggle with the same sins, and we should let our kids know that!  We are co-laborers in the war against sin.  "If our teens do not hate their sin, they will not run from it.  Our job is to work with them in the daily circumstances of life to help them see sin as God sees it.  As they do, our goal and prayer is that they would hate sin and cast themselves on Christ saying, "What a wretched man I am! Who will rescue me from this body of death? Thanks be to God – through Jesus Christ our Lord!" (Rom.7:24-25)"
Another wonderful suggestion, though it's really more of a mandate from the author, is the idea of having constant conversation with your teens.  My son is a talker, but I need to remember to LISTEN.  Mr. Tripp gives great suggestions for ways to draw your kids out and to really get them talking from their hearts.  However, this is not something that is to be done just when they're blowing it.  This constant conversation needs to happen each and every day.  These times should be loving, encouraging and a time that you and your teen grow to appreciate.
Again, we should be using these times of constant conversation to lovingly direct our children toward God. I love this quote from the book:
"With hearts filled with gospel hope, we will question and probe, listen and consider, plead and encourage, admonish and warn, and instruct and pray.  We will awake every day with a sense of mission, knowing that God has given us a high calling.  We are walls of protection that God has lovingly placed around our teenagers. We are eyes that he has given that they might see. So we converse and converse and converse."
We must see our roles, as parents of teens, as ministerial.  Just as a pastor would watch over the condition of the souls in his flock, so should we watch over our children's souls.  Our parenting model should be one of shepherding, not one of identifying and punishing wrong behavior.  This does not mean, however, beating our children over the head with the Word.
Age of Opportunity
concludes with a chapter called Small Steps to Big Change, which I found to be a very helpful (and hopeful) resource.  In this final chapter, Mr. Tripp gives us some tools to work with to begin reclaiming any parenting ground that we may have lost with our kids.  He exhorts us to remember our own sinfulness, and to not be surprised when our kids sin.  He reminds us to actively educate ourselves on the people and/or things that are the major influences in our teen's lives – TV., friends, teachers, music, etc.  Mr. Tripp advises us to help our kids to form a plan of dealing with the temptations that they will face ahead of time, thereby giving them the weapons they will need to defeat sin.  These few remarks are just a sampling of the tools he gives to parents in this final chapter.
Paul David Tripp (M.Div.) is a Christian counselor and director of Changing Lives Ministeries.  He and his wife have four adult children.  Paul Tripp is the brother of Tedd Tripp, author of Shepherding Your Child's Heart (which I am currently re-reading!).  Mr. Tripp shares extensively in his book about his years of parenting his own children, with their permission of course; and I especially found these personal "real life" stories some of the most encouraging.
I am so thankful that I read Age of Opportunity
when I did.  I've been applying some of the principles from the book this week, especially from the final Small Steps to Big Change chapter; and I'm already reaping rewards.  My relationship with my son, though not awful, is improving.  I'm joyfully looking forward to these next few years with my son!
*****     *****     *****     *****     *****     *****     *****
Please remember the importance of reading! Pick up a book today, grab your reading tools, and READ!
God bless you as you look well to the ways of your households!
Proverbs 31:27