Book Review – Aunt Chip and the Great Triple Creek Dam Affair, by Patricia Polacco
Why am I reviewing a children's picture book?  Good question!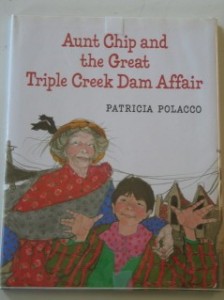 For one thing, I happen to enjoy picture  books.  For another, this particular book, at this particular time, seems very pertinent.  It's also a favorite read aloud in my home.
In the town of Triple Creek, folks have long ago done away with books.  Instead they spend all of their waking (and sleeping) hours in front of the TV.  In fact, they are so enamored of their TV sets that they keep pictures of them on their mantels right alongside the pictures of their families.  The children attend school, but they are not taught by teachers.  Instead, they watch TV.  The books in Triple Creek are used for all sorts of things – filling pot holes, propping up windows and even damming up Triple Creek.  The books are used, not read.
A young boy named Eli goes to visit his Aunt Chip who, fifty years before, took to her bed when the giant TV antenna was installed in the center of town.  Her last words to the town concerning the antenna were, "But there will be consequences….mark my words. There will be consequences."  Of course, she was right.  The town's residents, including her nephew Eli, no longer know how to read.  Aunt Chip tells her beloved nephew of all the wondrous things that can be learned from books, and then she teaches him to read.
I will not spoil the final outcome, other than to say it is a bit wild, very humorous and ends quite happily!  The characters are fun and written in such a way that I have no trouble in giving them voices when I read aloud. Patricia Polacco is a favorite author here.  Her style is appealing and her characters well-written.  Her colorful illustrations are wonderful and, most notably, always have a way of including photographs of her own family somewhere in the book.  – Aunt Chip and the Great Triple Creek Dam Affair, by Patricia Polacco
is a delightful book to read!!   I love doing the voice of Aunt Chip!
Why, though, did I say that this particular book, at this particular time, seemed pertinent to me?   Like the residents of Triple Creek, I see more and more frequently that folks are turning away from books.  Instead, they are turning to their computers for their reading.  E-books, downloadable text, and books on-line are all very much in vogue.  Reading electronic media will not end with an illiterate populace such as was found in Triple Creek; but something else is being lost.
I would not enjoy sitting with my lap top in my lap and reading aloud to my children or grandchildren in quite the same way that I do with a book.  I do not find it at all relaxing to sit at my large computer desk and read, though I take great enjoyment in sitting in my easy chair, before a roaring fire, and reading page after page of a book.  The quality of pages printed on my home computer, bound with a staple at the top, lack the tactile pleasure of holding a lovely leather bound volume printed on good paper.  Worse, the quality of a computer printed document deteriorates quickly with time.  The Internet is, truly, a wonderful thing, and I use it daily.  Books, though, are a treasure, and are read with delight.
Let's not forsake the old-fashioned book!  If we do, I fear, "there will be consequences, mark my words. There will be consequences."
(If you don't read aloud to your children of all ages, please read this post.   Then, find a wonderful book and read aloud to your children (or grandchildren)!)