As I mentioned in my last post, the early part of this week found me tending to the long term chores in my school room.  Getting my son's nature collections under control was just a starting point.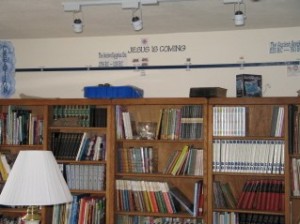 Over the last year or so, we started putting things on top of the book shelves.  A completed model tank.  The container of indoor sand.  The ant farms (after the ants had expired).  That sort of thing.  It took me all of 5 minutes yesterday to take them all down and put them away where they belonged.  Why I'd let them linger on top of the shelves is the million dollar question!  I then went to work dusting the tops of the book cases.  It had been quite some time since this was last done, so I used the vacuum to suck up all the mess.
The timeline painted on one of our school room walls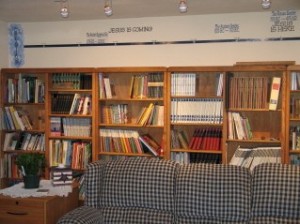 was a good idea in theory that didn't quite pan out.  It was just too hard to get to, and the print for all of the individuals and/or events that we posted on the wall was too small to read from any distance.  We still keep a running timeline, but we keep it in a binder now.  I would, eventually, like to paint this wall the same dark red as the dining area wall, but that will have to wait.  In the meantime, I think this wall looks much better with the unnecessary stuff removed from the tops of the book cases and only the broader historical time periods remaining on the time line.  I also took the lamp off the side table.  There is plenty of light available from the overhead track lighting, and the lamp just seemed out of place.
With the eight year old's nature stuff all organized and put away, I was able to reclaim this small area next to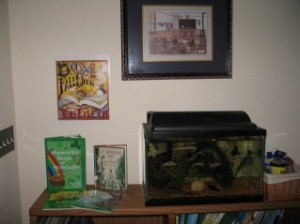 the aquarium to display my holiday books.  St. Patrick's Day is just around the corner!!  We have four books specific to St. Patrick or the observance of St. Patrick's Day, and now they are on display.
I used to decorate my living room and kitchen in a sort of country-cute Americana theme.  I still have my kitchen done along those lines, though it's now more primitive Americana than country cute.  My living room still has a hint of the Americana look, though it's more traditional  now than country.  The school room, originally, was going to have that same Americana theme, but we really never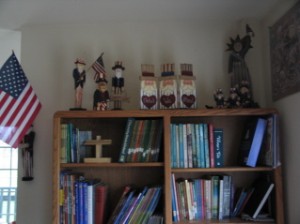 did much toward that end.  However, as I cleaned off the tops of all of the bookcases yesterday, I decided that the double bookcase that holds our science and nature books would be a nice place for a group display of all of my Uncle Sam's.  Most of these were gifts from family and friends over the years and I still really do love them, but now they are grouped together and make more sense than they did placed just here and there as accents.  I chose this particular book case because our school room flag is held by a wall-mounted Uncle Sam!
After that, I cleaned off the boys' bulletin boards, 

cleaned up our big computer desk,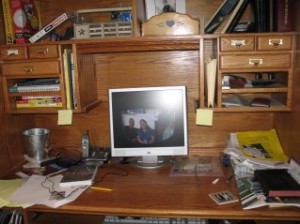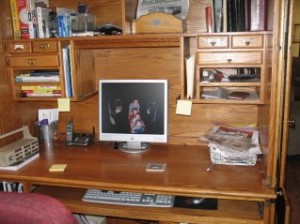 and had the thirteen year old clean up his school work area.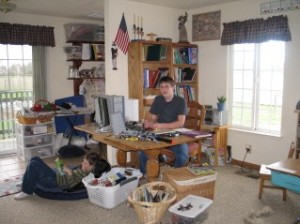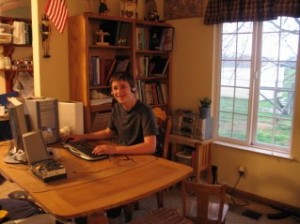 How in the world he was able to do any school work with all of those Legos there is beyond me!  (The baskets underneath are where the boys' school reading for the current term is stored.)
Today is the first Thursday of March, and I am moving on to another area of my home to work on monthly/quarterly/annual jobs.   It's good to know that I was able to accomplish several big jobs in the school room in just a couple of hours one afternoon.  There are still a couple of trouble spots in the school room, but I'll get to those during the 4th week of March.
Tackling those seemingly big projects never seems to take me as long to do as I think they will.  Sometimes big jobs only look big because we don't want to do them.  Do you have a seemingly big job looming in your home?  Jump right in and surprise yourself with how quickly you get it finished!
God bless you as you look well to the ways of your household!
Proverbs 31:27