I have a terrible case of Spring Fever, making it very hard to think about anything other than being outside.
The temperatures here in our neck of the woods have been flirting with the 80's all week.  I've enjoyed spending some time outside, walking about and checking on the orchard, my little citrus grove, etc.  We have had very little rain this year, so I have had to start the watering and irrigation schedule much earlier than usual.  It's nice, though, to be able to get out to the orchard and see the peach tree blooming and the buds swelling on the apple, pear and other trees.  The vineyard is still asleep, but the berries are waking up.  My early blueberries are blooming like crazy.  My mouth is already watering at the thought of those first sweet blueberries.   You'll notice that our weeds are thriving!
I had a nice row of roses along my front walkway, which is at the side of my garage.  They were spectacular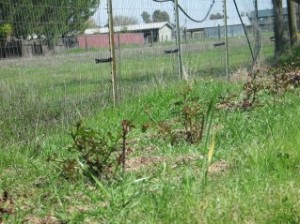 for several years.  The bad news is that they did not fare as well last year because they did not receive enough sun.  The good news is that the tree in the yard in front of them has finally gotten big enough that it actually protects our home's western exposure from the very hot summer sun.  The better news is that my wonderful husband moved all of those roses for me.  They are now lining the fence in front of our sheep pasture where they are sure to get plenty of much-needed sunshine.  Since they are no longer a part of the actual landscaping for the house, I will be able to cut roses for the house to my heart's delight this summer!!!  I always hesitated to cut them when they were right in front of the house, but no longer!   (Man!  We have GOT to mow out there!)
Since the area they came from will now be shady in the afternoon, I will fill this bed with azaleas and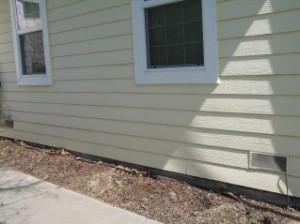 hydrangeas.  I love hydrangeas!!  Dani can pick up a bale of peat moss for me while she is in town today, and we'll work that into the soil.  I just checked and my little garden account may have enough funds in it to start planting this week!  The azaleas will bloom in the early – mid Spring every year, and when they are done, the hydrangeas will bloom until the first frost.  I will need six azaleas and three hydrangeas to fill the area.  The azaleas will be planted below the windows, and the hydrangeas to the sides of the windows.  Kelli has been giving a tour of her beautiful gardens this week.  Seeing her beds coming to life so early has been inspiring!
We also have a fever of a different nature.  My eight year old has had a miserable tummy bug since Tuesday.  I think he is past the worst part of it now.  He ran a pretty good fever for most of the day yesterday, and just felt crummy.  I'm so thankful to be able to be home with him!!  Being sick is no fun!  He's recuperating today with a video marathon!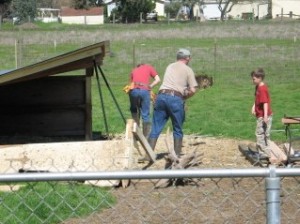 The guys got out on Tuesday and rebuilt our sheep shelter.   That goofy ram!!!!  He punched a hole in the  side.  Then he tore it even larger with his horns.  Finally, he head-butted one of the supports enough to snap it, which caused half of the roof to cave in.  When he first punched out the side we laughed and said that he was remodeling, or getting ready to add on for the spring lambs.  We quit laughing when
he caused the roof to fall, though.  A full day's hard work for my three guys and a big chunk out of our bank account later, and the shelter is back up.  Sheep are not very intelligent!  My Nubian goats can figure out how to turn a key in a lock to get into the feed barn (true story!), but the sheep tear apart their only shelter from the sun and rain.  I've said it before, but here it comes again  – Keeping sheep has given me an entirely different perspective on the Scriptures that compare us to sheep!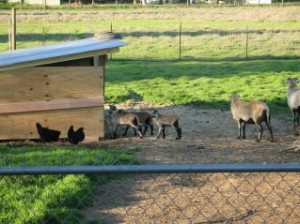 The shelter is done, save for a couple of coats of paint.  Copper strung some hot  wire along the supports where the ram likes to head butt.  Hopefully that will discourage his destructive tendencies.  The three little ones there checking out their rebuilt home are our February lambs.  I can't believe how big they've already grown.
I was reading Revee's blog this morning.  That girl is quite a baseball fan!!  Her cute post reminded me of the days that my Dad and I would drive a couple of hours to Oakland to watch the A's play.  In the late 1960's and very early 1970's, Dad and I would go to a couple of games a month.  Just the two of us.  When my Dad turned 80, during the summer of 1987, Copper and I surprised him with tickets to a ball game for ALL of us.  We told him that he should be the one to take his grand daughters (no boys at the time) to their first major league game.  We made quite the day of it by stopping for a big meal on the way to Oakland.
The A's must have been having a good season, because the park was pretty full that evening.  I made two huge bowls of caramel corn to take with us, and we enjoyed sharing those with the folks seated around us.  (hmmmm…..how hospitable!
)   Dad had not been to a ball game in probably 15 years.  He looked very much the dapper, older gentleman that night.  Dress slacks, open collared long-sleeved dress shirt and suspenders.  Of course, the whole look was topped off with his bright green A's ball cap!    His health had not been good, and he was a bit overwhelmed by the crowd at the coliseum and the way things had changed.  The girls were enjoying every minute of it, though, and so was Dad.
Then we saw it start.  The WAVE!!!!  Remember that?  Way off to the right of the coliseum a group of people were trying to get it started.  Each time, a few more folks would join in.  I pointed it out to Dad.  He sat motionless, eyes on the game.  About 1/3 of the people in the stands were now participating.  I pointed it out to the girls, and they got really excited.  Woo Hoo, we're gonna do the wave!  Dad sat motionless, eyes on the game.  The wave came closer with every passing minute.  Finally, FINALLY, the wave was going to make it all the way to us.  My mom was excited.  My girls were bouncing out of their seats.  Truth be told, I was excited!!!  Dad sat motionless, eyes on the game.   Here it comes, here it comes…….and guess who stood up and did the wave?!?!?!  My dad!!!!  He stood up, arms over his head, and then sat back down, once again motionless, eyes on the game.  Oh, but that sly, half-embarrassed smile on his face I'll never forget!!!!!
Thank you, Revee, for giving me the opportunity to recall a lovely memory!
God bless you as you look well to the ways of your households!
Proverbs 31:27