"Do not let your adorning be external – the braiding of the hair, the wearing of gold, or the putting on of clothing – but let your adorning be the hidden person of the heart with the imperishable beauty of a gentle and quiet spirit, which in God's sight is very precious." (I Peter 3:3-4)
Grandma Nora was a beautiful woman.  She was tall and "big boned", a country gal through and through.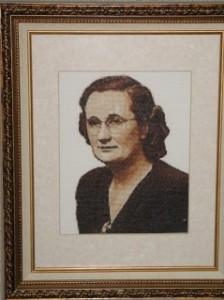 Born in 1903, and leaving us just two days ago, her life was long and full.  In many, many ways, Grandma Nora exemplified a beautiful, godly older woman.  Her beauty was not merely external, and her beauty was never flaunted publicly.  Her beauty was not of the type that would have been used in an ad for skin care products, but her beauty was found in the character that would have been horrified at the very thought. What made her beautiful?
The verse above from I Peter 3, says it well. Grandma Nora had a gentle and quiet spirit.  In the almost 30 years that I knew her, I never heard her raise her voice.  Just one time I heard her call out to a wayward grandchild by calling his name.  Her voice was not angry, but her call was stern.  I'll never forget the sound of it because it was the only time I heard her voice sound anything other than peaceful and quiet.  When things were discussed that she did not or could not agree with, she would just sit quietly and shake her head from side to side in dismay.
That didn't mean that she was timid, though. She'd quietly sit and listen while others conversed. If she didn't agree with what was being said, she'd wait until an opening in the conversation and would then just quietly state her opinion.  Her tone was always gentle and matter-of-fact, never rude; but you were never left wondering what she thought about the matter.  And you know what?  She was generally right!
Grandma was a great one for sharing with her children, her grandchildren and her great grandchildren the important things of her history.  In so sharing, she also passed along her faith.  Her faith was not passed on by her preaching to anyone, but simply in the way she shared her past and lived her life.  "You shall teach them diligently to your children, and shall talk of them when you sit in our house and when you walk by the way, and when you lie down, and when you rise." (Deut. 6:7).  This just came naturally to her!  I have learned so many things about being a Christian wife and mother from her!
One of the greatest lessons I've ever heard on the matter of a woman submitting to her husband was learned from one of Grandma's stories.  She was a young woman, and her husband was moving the family from one farm to another.  They lived in "Indian Territory", better known today as Oklahoma.  She had a couple of young ones, and was very pregnant with another.  They were moving their household in two horse-drawn wagons.  Her husband with one load was in the lead.  She watched, at the base of a very muddy hill, as her husband encouraged his horses to pull his wagon up the grade, the wagon sliding a bit in the mud as they progressed upward.  She was concerned about the safety of driving up that muddy hill; but her husband had gone on before her and she was to follow.  There was nothing for her to do but simply give the command to the horses and begin driving her wagon up that same muddy hill.  And she did it!
I never met her husband.  Grandpa passed away several years before Copper and I met.  I do know, though, that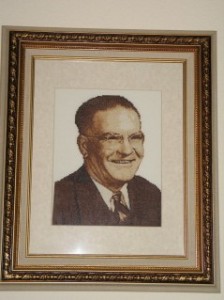 she lovingly cared for him through years of Parkinson's Disease.  She also cared for a son who was born mentally retarded until his death as an adult, as well as her mother in law.  Her care was loving, and good.  At one point in time Grandpa needed to be hospitalized.  She was not happy with the care he was given there, though; and she resolved for him to be home where she could tend to his needs herself. A great story told about him was that one day, after having been given a bath at her hand, he said he now understood why he'd often heard his children fussing when they were being bathed.  She was a thorough "scrubber" and always left everyone's skin a glowing pink from the washing!
After my mother-in-love was married, she made an offer to Grandma.  The offer was that one day a week my mother-in-love would go to Grandma's house to take care of Grandpa and Uncle Doug so that Grandma could have a day off.  Grandma said that she didn't know what she'd do with a day off.  She couldn't fathom doing anything any differently than loving her husband and loving her son by taking care of their daily needs and working at home. (Titus 2:4)
Grandma was a hard-working woman, but she always did her work cheerfully and in such a manner that it appeared as though the work was what she would choose to do.  Oh, she knew how to relax, too.  She loved watching the Grand Ole Opry on TV, and there was nothing like watching a rodeo on TV either!  But she was never idle long.  It was pretty common for her to be crocheting even while watching television.
Grandma had a green thumb.  I know that a lot of her success in gardening came from the experience born from the necessity of providing vegetables for her family in lean times.  However, her gardens were always glorious!  She would nurse a tomato plant, planted way before the danger of last frost, and would revel in producing a very early garden fresh tomato.  She would tenderly care for that same tomato plant and it would produce well into the fall.  We won't mention the time that she gave my mother-in-love the name of a specific fertilizer that she wanted for her garden.  Lola picked it up at the nursery, put it in the trunk of her car, and then did her grocery shopping.  When she opened the trunk for the bag boy to put her groceries in, the most horrid stench met her!  Grandma had given her a brand name to buy, but the main ingredient?  Chicken manure!  The year Grandma planted pumpkins was a banner year. The pumpkins grew so large that they grew into and through her wire garden fence!!  I have, somewhere, a picture of one of my girls sitting atop one of her giant pumpkins, with pieces of the wire fence poking out of the middle of the pumpkin.
The bounty of her garden was never wasted.  Green beans were blanched and frozen.   Berries were frozen.   Peaches and apricots were canned.  Plums, peaches and apricots were made into jam.  And every fall there was the luscious smell of her apple butter cooking in the oven.  Thanks to Grandma, I have THE BEST apple butter recipe in the world.  Maybe I'll share it next fall.
Long years of financial hardship, meant that Grandma had learned to cook most anything and everything. Funny thing is, she actually developed a taste for some of these things.  One year on Corin's birthday, Grandma gave one of Corin's friends detailed instructions on how to cook cow brains.  Poor Sarah, she listened very attentively, and I doubt she'll ever forget it!
Her gardening was not limited to growing food, though.  Grandma loved flowers and she grew some amazing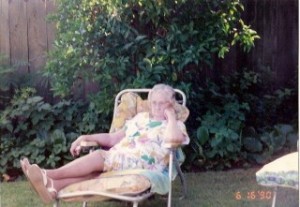 things!  For years Grandma had the most amazing fuchsias I've ever seen.  There were some planted in the ground, and some trailing varieties hung from baskets above.  It was just an amazing wall of bright pink and red all summer long!  Hydrangeas.  Roses.  All sorts of beautiful flowering shrubs!  In the many years that she and Copper's mom lived in the same house, the front yard was always a mass of colorful flowers and the back yard a lush, green tapestry.  She even tried her hand with Bonsai for a season.
Grandma was a wonderful seamstress.  In fact, for a time, she worked as an alterations lady for J. C Penney's. One of Copper's aunts once shared with me the story of seeing a pretty dress in a store window downtown.  She really liked the dress, but knew that money was scarce and that the dress would never be hers.  However, Grandma went downtown, took a look at the dress, and before long the dress was made and custom fit to boot. When Copper and I were married in 1978, Grandma made her dress for the wedding.  Grandma changed the sleeves a bit and wore the same dress to Copper's brother's wedding in 1983.  In 2000, the dress was remade once again and worn to Corin's wedding.  Frugal, sure; but her real reasons were strictly sentimental.
All of Grandma's great granddaughter's were made beautiful crocheted dresses.  Well, my girls shared one. We all have at least one crocheted afghan that Grandma made.  Some of the granddaughters have crocheted table clothes that Grandma made.  And, Oh! The doilies!!!
There was always a new craft to learn and try in order to make something lovely for her home or to give as a gift.  Dolls were made.  Doll clothes were made.  Stuffed animals were crocheted.  Pillows were crocheted or sewn.  Wall hangings were done in lace crochet.  One thing that always intrigued Grandma were apple head dolls. Have you seen those?  The heads are made from a dried apple, the faces are painted on and then bodies are sewn and clothed.  Grandma always told us that she was going to make apple head dolls when she got old.  We have always laughed that Grandma must not be old yet because she's not made any apple head dolls!
Though Grandma was not one to follow fashion trends, she was always dressed nicely.  It was rare to see her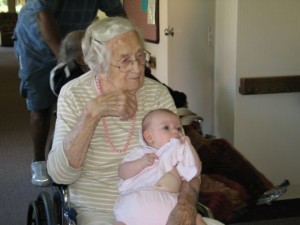 without a string of beads around her neck, and quite often the beads were ones she'd strung herself.  In fact, one whole summer Grandma meticulously cut strips of wall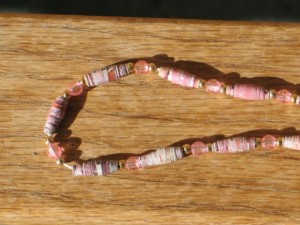 paper scraps, and then rolled them up, making the prettiest oblong shaped beads you'd ever seen.  She then strung them and had a whole new wardrobe of necklaces to wear.  She frequently wore pink, which she absolutely looked great in; and almost always her garments were floral.  The great grandchildren were delighted every Christmas for years when she wore her battery powered flashing light Christmas sweatshirt!
Grandma adored babies.  She had a way about her that just made babies feel secure and loved.  While others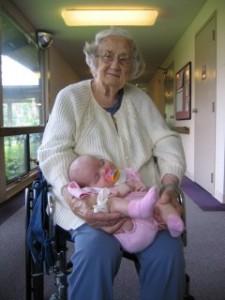 would very carefully hold and handle a newborn "just right", Grandma would have them up and over a shoulder, or cradled in her two large hands.  To an outsider, her treatment may have not looked careful enough, perhaps even rough.  However, her well-practiced hands knew just how to hold that baby!  Babies never felt anything but totally loved and secure in her hands.  There were times when one of my own little ones would be fussing, terribly tired, but too stubborn to let themselves fall asleep. Grandma would take them, sling them up over her shoulder or cup them in her lap and before any time at all, they were sound asleep, secure in her arms.
Grandma was always ready, willing and able to baby-sit her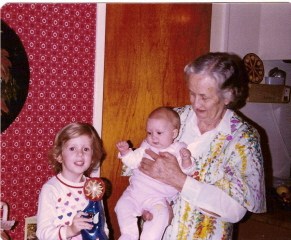 grandchildren and great grandchildren.  My daughters have wonderful memories of spending time in her care.  She put up with all of their childishness and took great delight in watching them play. Though she lived at the time with my mother-in-love, she quite often babysat grandchildren alone while my mother-in-love was at work or otherwise away from home.  In her older years, when some of the grandkids would get too noisy (and when my mother-in-love was there) she'd turn off her hearing aids and then would enjoy watching the kids play in peace and quiet!
Grandma had a wonderful sense of humor, but the woman could not tell a lie to save her life!  One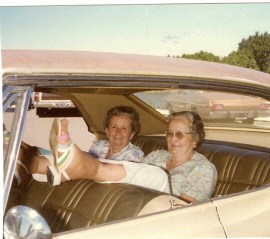 Thanksgiving,  after we'd finished the meal, we all retired to Copper's mom's living room to chat.  My daughters helped clean up in the kitchen and then they were asked to help serve the pumpkin pie.  My daughters served Great Grandma first, and then proceeded to serve everyone else.  When my mother-in-love came out of the kitchen with her pie, she saw her mother sitting on the couch empty handed and asked her, "Mom? Didn't you get any pie?"  Grandma looked up at her so innocently and shook her head no, she hadn't had any pie; but immediately began laughing at her own deceitfulness!!  We all laughed until we cried!
Grandma was not one to move especially fast, but was instead slow and graceful in motion.  Corin was there one day when Grandma stumbled in the garage and fell backwards onto the garage steps.  Corin said the whole thing was done quite elegantly, gracefully and in extreme slow motion.  It almost looked as though Grandma had meant to sit down on those steps!  That is until she, at last, came to rest on those steps and the bobby pins holding her hair back went "sproing" and shot out of her hair like rockets!
But even the most graceful of us have our moments.  Grandma took another fall, this time going down those same garage steps.  My mother-in-love was at work, and Grandma broke her shoulder in the fall.  It took her a couple of hours of working between episodes of extreme pain that almost caused her to black out, but she unbuttoned her shirt and made a sling for her arm from the tails; and, sitting on the steps, backed her way up the steps, one at a time, and into the house to call Lola at work to tell her she was injured.  Needless to say, she was a strong woman!
A few years later, she decided to install one of those over the door hangers on a bedroom door.  To reach the top of the door, she stood on a swiveling office chair.  While she worked, the chair swiveled and down she went, breaking a hip in the process.  Once again, finding herself home alone and severely injured, she worked in brief moments of strength during the long stretches of pain.  She drug herself to her sewing machine and grabbed the scissors.  She then used the scissors to pull the telephone down off the table and dialed 911.  Strong woman?  You bet!  Sense of humor even in dire straights?  Absolutely!  When the 911 operator answered the phone, Grandma said the first thing that came to her mind, and that from a television commercial, "Help. I've fallen and I can't get up!"  Every time she'd tell that story, she'd just laugh and laugh.
I'm sure if you are familiar at all with Proverbs 31:10-21, you will have seen examples of all of those verses as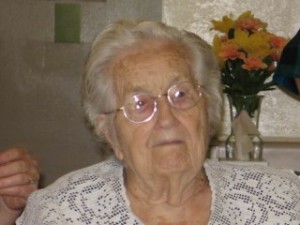 I've told you about Grandma Nora.  Her husband's trust was not misplaced in her, and she did him good and not harm.  She worked willingly with her hands with all sorts of materials.  She provided all sorts of wonderful food for her family.  She planted her own trees and gardens.  She was physically strong and worked hard.  She made clothing for her household, and crocheted and quilted coverings for the beds.  She worked for a time as a seamstress and made her living sewing.  Strong.  Dignified.  Not afraid for the future.  Her words were always wise and kind.  She was no idler.  And her children, and grand children, and even those of us who only married into her family, will always rise up and call her blessed!
There is that which the world calls beautiful.  It is vanity and it is fleeting.  However, the beauty of a godly woman is true and enduring.  Grandma Nora was a beautiful woman.
God bless you as you look well to the ways of your household!
Proverbs 31:27