This made me laugh:  My son, is his jammies, with the antique 3-D post card viewer.  We are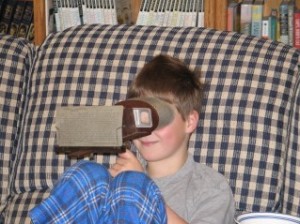 so pleased to have this because it is a family heirloom.  The device is actually called a stereoscope.  Ours is very old and it is in mint condition, as are all of the 100 or so slides.  Every once in awhile one of my boys will pull it out of the closet and sit and look at the 3-D pictures for quite a long time!  I have to admit, it does make for some nice, quiet entertainment.  Some of the old pictures are hysterical.
On the other hand, this made me cry: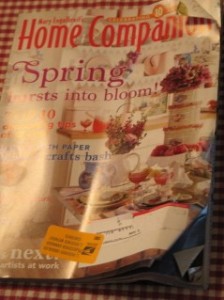 My April/May issue of Mary Engelbreit's Home Companion arrived today badly battered and beaten by the USPS.  I love this publication, and have only just recently subscribed.  It's so heartbreaking to have what I consider my very own version of a picture book come so badly torn and bent and mangled.  You've got to love the little sticker that the post office put on it.  The box that is checked says, "Received Damaged".  Say what?  Am I to then assume that the publishers mangle their own magazines before mailing them out to their subscribers?  It would be nice if the USPS would give themselves a more truthful box to check.  Something along the lines of, "We mangled your magazine", or even "Damaged in Processing".  Goodness, I'd even settle for an,  "Oops.  Sorry."  Enough sniveling.  I'm going to try to straighten the pages, and then press the magazine under a stack of heavy books overnight.  I'll let you know how it turned out.