I was visiting I'm an Organizing Junkie! yesterday and had a light bulb moment!!  She was showing her "beverage station" and in the post she had the cutest little box that held all of her tea bags, all sorted by type.  Hmmm………..in my Beverage Center I had all of the boxed teas stored in a white dish tub.  While this worked out pretty well, and looked nice and neat from the outside, inside the tub was a jumbled mess of boxes.  Some of the boxes had only a handful of tea bags in them, some were nearly full.  All were just in there willy-nilly from being rummaged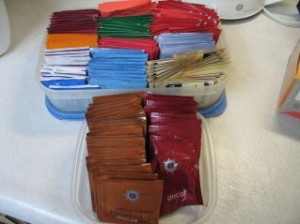 through several times a day.
I found this unused Tupperware container in the cupboard and filled 'er up!  I used a second, much smaller  container for the two or three varieties of decaf tea I keep on hand. (Stash Chocolate Hazelnut Decaf is w-o-n-d-e-r-f-u-l!!)  I do need a container that's just a bit larger for my teas, I think, but this is so much nicer in the cabinet!!!  I'll keep my eyes open for something a little bit bigger at the thrift store!
This is what I was able to put into the recycling bin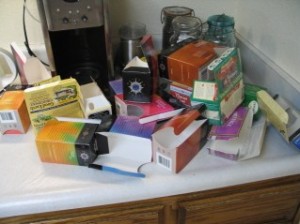 after putting away the tea!
This week's shopping list had the note to buy two white dish tubs, which I needed for reigning in a cupboard in the laundry room.  Now I'll just have to buy one because the former "tea tub" is now available!  I love being able to cross something off of the shopping list without making a purchase!!!
Before and after shots, beginning with the cabinet as it was even before the tub!!  Not much overall change in appearance with today's update, but a much more organized way of storing my teas.  I'm a happy camper and I didn't spend a dime!!
God bless you as you look well to the ways of your household!
Proverbs 31:27