The boys' church clothes belong in the boys' closet, but for the past year and a half, they have been in the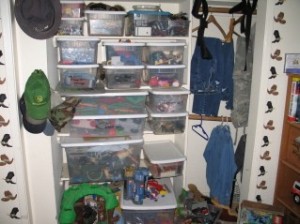 master bedroom closet.  The problem was not easy to solve.  There are no closet doors in my boys' room.  We took them down when both boys were small because the doors were frequently knocked off their tracks.  To avoid the frustration, we just did away with the doors.  My husband also built some great shelves in their closet at that time that were measured to fit the boys' Sterilite storage tubs full of toys.  We gave up trying to hang the boys' church clothes up in their closet because the dress slacks were often knocked off their hangers as they boys took their jeans down.
The boys are older now, and I would love to re-do the inside of their closet as well as their room.  In the meantime, though, I knew I had to find a way to get their dress clothes out of my closet.  While the men-folk all headed to Corin's today to rototill her back yard, Dani and I tackled the boys' closet.  I had decided that the best plan would be to empty one shelf where the boys could stack their folded jeans.  Everyday t-shirts, etc. are in dresser drawers, so the only things hanging were jeans and sweatshirts.  While we had the opportunity, we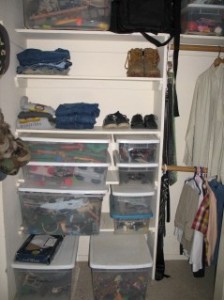 straightened things up a bit in the closet as we went along.  I was able to spray and wipe down all of their shelves in the process, too.
After getting rid of some outgrown toys and rearranging a few other toy tubs, we actually freed up two full  shelves in the closet.  Each boy now has a shelf of his own for his jeans, folded sweatshirts and shoes!  Cool!!!  My older son is now wearing men's size shirts, so his shirt tails and sleeve cuffs hang down over the little guy's clothes rod.  Since these clothes are only worn, on average, once a week, this shouldn't be a problem.  This will keep things working for us now for awhile longer.
Dani and I worked in there for a bit longer straightening things up a bit for the boys throughout their room.  It looked pretty good in there when we were done!  I'm so glad that we were able to work to solve the problem of getting the boys' church clothes back where they belonged.  Any little projects like this in your home that can be solved with a bit of time and elbow grease???  I love fixing something without spending any money!
God bless you as you look well to the ways of your household!
Proverbs 31:27