There is a time to mourn.  There is a time to grieve . We will miss Grandma Nora always.  But today it is time to move forward.  The boys and I will be re-establishing our homeschool routine.  After several days away from our routine, it will be a struggle for all of us.  But it's time.  Time to put my household routine back into practice, too.  I'm thankful for having a good, working household routine.  It makes it very easy to jump back in without getting bogged down with all the things that didn't get done last week.  I'll just pick up with where I should be today and move forward.
Our week has not been all sorrow.  We've enjoyed some wonderful times, as a matter of fact.  I've had the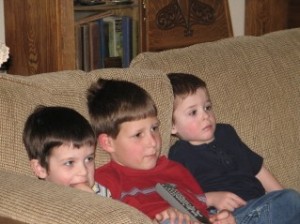 privilege of having the grandbabies here two, count 'em TWO, times in the last week.  Once while Corin went to a prenatal appointment and again last night when she and her husband went out for dinner.  They are such a delight and such a blessing to me!!  My sons, the babies' uncles, adore their nephews and niece.  It's so much fun having a son only three years older than my eldest grandchild.  It makes for some great shots, like this one of my grandsons and youngest son being total couch potatoes while watching a movie!
If you've been to my daughter Corin's blog, you know
that their search for a family dog was finally successful.   They have a beautiful nine pound puppy that I am smitten with.  She's adorable and I call her my granddogger.  I think those ears account for at least a pound of her weight!  She's adorable now, but she will be a large dog when she's grown.  I think she's going to be a wonderful addition to Corin's family.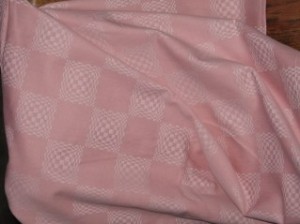 Dani and I visited our favorite thrift store while we  were in town on Friday.  I was pleased to find a brand new, 100% Hungarian cotton tablecloth.  At 65"x104", it will be a nice big one to save for the times we put the leaves in the table for company.  It's such a beautiful shade of pink, with a very unusual design.  I am so thrilled to have found it! What a deal at just $5.00!
Our spring like weather cooled just a bit over the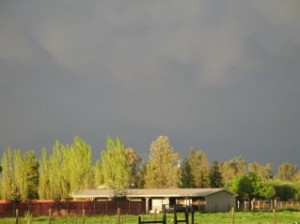 weekend, and the skies clouded over yesterday.  It was very breezy and cool at the cemetery, but the rains held off until we were driving back home after the funeral.  Late in the day yesterday, I looked out and the skies were just black with clouds in the east, but the setting sun was shining to the west.  It was almost breathtakingly beautiful outside.  The weather was cool enough that we even built a fire in the wood stove again Monday afternoon.  It was nice feeling that great wood fire heat once more.
I have so many things running through my brain that I'd like to share with you.  Some thoughts on traditions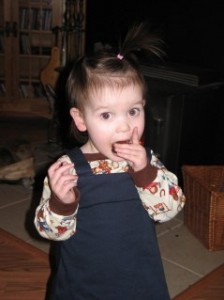 making family memories.  A book review or two. Perhaps some thoughts on being a homeschooling grandma (or should I say the grandma of home schooled children?).  Today, though, today I'm concentrating on spending some time with my husband, getting my children back into their normal routines, and getting my home back into its normal routine.  Oh, one more thing……Yes, Corin, I did feed your children chocolate cookies while they were here!
God bless you as you look well to the ways of your household!
Proverbs 31:27