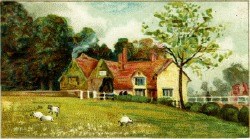 For everything there is a season, and a time for every matter under heaven:
A time to be born, and a time to die;
A time to plant, and a time to pluck up what is planted;
A time to kill, and a time to heal;
A time to break down, and a time to build up;
A time to weep, and a time to laugh;
A time to mourn, and a time to dance;………. Ecclesiastes 3:1-4
Yesterday was a bittersweet day for us.  We were privileged to attend the memorial service of a dear woman, the mother of a very good friend, who died following a horrible automobile accident.  I will treasure the memories I have of this dear woman – her cute laugh, her winning smile, her always totally put together look.  Let me tell you, this woman radiated femininity even in a pair of blue jeans!  Yesterday we celebrated her life along with the assurance that we know where she will spend eternity.
Yesterday was a time for remembering and for mourning with her family, folks we've known for a dozen years. Yet we've seen each other through many seasons….the births of some of our own children, and the births of all of our grandchildren.  We've witnessed the marriages of each other's eldest children, both of whom are now mothers of many little blessings!  We've now mourned with each other through the deaths of four parents.  We've laughed uproariously together, and we've wept together.  We've upheld one another in prayer, and we've petitioned the Lord together on behalf of others.  We've helped one another move.  We've watched our children grow.  Our husbands have labored together on one another's homes, and in service to others.  We're currently in a season where we no longer attend the same church, nor do we see them as often as we'd like.  But it's just a season.  A season that is different from our past seasons, and different, I'm sure, than what our future seasons will be.
Do not despise the season you are in.  Think for a moment…. If I were to ask you outright if you did despise the current season of your life, I am sure you would tell me, "no"; but is that true?  Do you complain that you are not getting enough rest because the baby still wakes up to be nursed during the night?  Do you grumble that your husband, who is establishing himself in his career, works long hours?  Do you weep over your empty nest now that your children have all grown up?  Do you sigh that the time for having more babies has past?  If you say "yes" to any of these things, or if you now see that you are murmuring a bit about whatever season you find yourself in, then it's time to stop looking inward and to start looking upward!
The season you are currently in is not a mistake.  God has ordained since the beginning of time that you would be in this season at just this time.  Whatever tasks you currently face, these are the tasks that God has for you, and His timing is perfect!!
"I have seen the business that God has given to the children of man to be busy with.  He has made everything beautiful in its time.  Also, he has put eternity into man's heart, yet so that he cannot find out what God has done from the beginning to the end.  I perceived that there is nothing better for them than to be joyful and to do good as long as they live; also that everyone should eat and drink and take pleasure in all his toil – this is God's gift to man." Ecclesiastes 3:10-13
This is the season that God has for you, REJOICE!!   Be exceedingly glad in it!!   Do not become weary in this season.  Take courage and cheer in knowing that you are doing the business that God has given you to be busy with at this very moment.  Scripture tells us that there is nothing better than for us to be joyful and take pleasure in our toil.  Though some seasons may be filled with tears and some with laughter, I look forward to watching God's plan for my life continue to unfold.  With eternity in my heart, I will strive to be joyful and take pleasure as I do the work that God has given me to do!
God bless you as you look well to the ways of your household!
Proverbs 31:27