No, not those weird brightly colored marshmallow things….real peeps!!!   We replace our laying flock every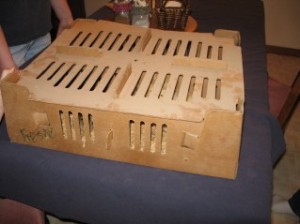 three years, and this is the year!  We'd decided on our two favorite breeds, 25 chicks total.  Last time we bought chicks we had a hard time finding the quantities we wanted locally.  We thought we'd have to mail order them this time around, but Copper called around Tuesday morning and found what we wanted not too far away.   Copper then made a mad dash to a more-distant feed store and brought home our chicks!!  We bought 12 Americaunas and 13 Buff Orpingtons.  I love the beautiful blue-green eggs the Americaunas lay, but I love the personality and beauty of a mature Buff Orpington hen.
Once the chicks arrived home, I brought them into the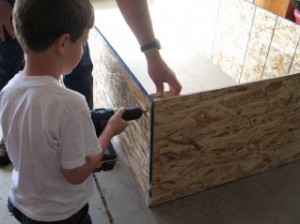 house to stay warm while the brooder was quickly assembled.  Copper and the boys cut the wood and assembled the top several days ago.  All that remained to do today was some assembly.  While the boys worked on the brooder, I washed up the chick waterers and feed dishes.  We were all set up and ready for business within the half hour.  My youngest son was thrilled to be able to use Dad's cordless drill/screw driver!  He loves doing important work!
The chicks were a bit chilly and huddled together for warmth for a bit, but then they got a whiff of their feed
and sprung to life!  They seem like very vigorous, healthy birds.  Unfortunately, our old heat lamp bulb bit the dust during the afternoon, and then the replacement bulb broke apart in Copper's hands as he was screwing it into the fixture!!!  Even more unfortunately, the temperatures were to drop below freezing overnight!  Copper and I made a quick run into town and back with a second replacement bulb.  The poor chicks were huddled in a very tight mass, but the lamp soon began warming them up.  The yellow chicks are the Buff Orpingtons and the darker chicks are the Americaunas.  Both breeds mature to be beautiful hens, but they are very different personality-wise.  We spent far too much time Tuesday out in the garage watching these little gals dashing about from food tray, to waterer and back again.  The next time we'd venture out, they'd all be huddled together in a pool of light from the heat lamp taking a group siesta, and then they'd wake up and begin running about again.  They really are a delight!
They are awfully cute at this stage, just days old; but they will soon
lose their cute fluff and will start feathering out.  We've all enjoyed holding them today and having an up close look at these tiny little birds.   We'll keep the laying hens that we have now until fall.  We have a man who gladly buys our three year old hens from us, along with any other livestock we're culling from our flocks.  Who knows, we may be ready to part with our ram by then.
New chicks are a sure sign of spring, despite the temperatures still dipping into the 30's some evenings.  Any sure signs of spring in your neck of the woods?
God bless you as you look well to the ways of your households!
Proverbs 31:27