Though they were a bit more than two months overdue, I finally finished my grandchildren's matching outfits!  If you're new to my blog, I'll just catch you up by saying that not only did I bite off more than I could chew when it came to making Christmas presents this year, my husband also fell quite ill in the week before Christmas with kidney stones (though these were more like kidney boulders).  Long story short, I issued quite a few IOU's at Christmas time 
I'm getting them done now, though, and will soon have all the IOU's paid up – Lord willing!
Here are the matching outfits that I made for Corin's children.  The jackets, pants and jumper were made from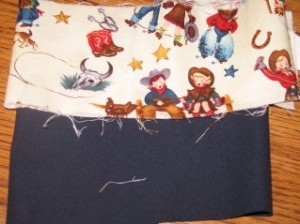 a lovely navy twill .  The three shirts were made from an adorable cotton children's cowboy/cowgirl print.  The print was used for elbow patches on the jackets as well.  I ordered both of these fabrics, as well as some others, from J & O Fabric last fall.  Their selection and service was great, and all of the fabrics I have ordered from them have been of very good quality.  The twill I used for these outfits was of an especially nice hand.
I used three different patterns for the outfits.  The shirts were made using Simplicity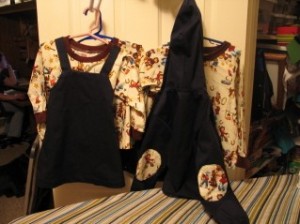 #5874, which is a pajama pattern.  I loved the long raglan sleeve shirts when I made their jammies, so I used this pattern for the shirts for the matching outfits, too.   All three shirts went together in one long afternoon, including overcasting the seam edges.
The boys' pants and my granddaughter's jumper were made from Simplicity #4384.  This is an "easy-to-sew" Simplicity pattern, and it was just that – Easy to Sew!  The pants went together in about 20 minutes a pair, and the little jumper took less than an hour, again including the time it took to overcast the raw edges.
So far so good, right?  I made the jackets from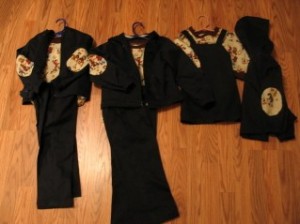 Simplicity #5378.  I will tell you that these are finished off ever so nicely!!  The inside of the hood is finished off with a flat fell seam, and the seams at the neckline are enclosed with twill tape.  The pocket edges, the front edge of the hood and the bottom are all finished with a narrow rolled hem.  This really is a lovely-looking jacket when it is done, but man, oh, man, it was a challenge to make!!  I knew my sewing skills were a bit rusty when I started sewing again last fall, but those little jackets put me to the test!!   They are not perfect, but they are done; and I will make the pattern again!  Somehow, though, I totally forgot to overcast the raw edges of my eldest grandson's jacket!  Not sure how I managed that, but I did finish off the seams in the two smaller ones.
While I was typing this, I realized I never showed the grandbabies' jammies.  I finished the jammies, thankfully, in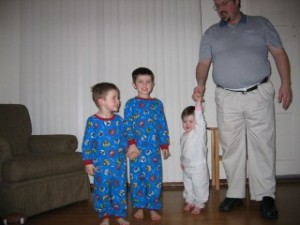 plenty of time for Christmas!!!  The boys have a nice warm Thomas the Tank Engine flannel print, and my little princess has a wonderful, soft pastel polka dot flannel print.  I used Simplicity #5874 for the jammies, and I'm pleased with how they turned out.  This was a fairly easy pattern to make up.  The only difficulty was applying the ribbing to those teeny, tiny shirt sleeve and pants cuffs!  (My granddaughter was being camera shy and needed her Daddy to help her have her picture taken!!)
I did the iron on transfer for the embroidered dish towel I have an IOU out for, and I started stitching it this afternoon.  (Thank you for your patience, Meg!)  I'll post a picture when it's done!   I have three aprons and a stack of potholders to finish still, but I am making progress!!  It's good to be back sewing and stitching again!
God bless you as you look well to the ways of your households!
Proverbs 31:27