The family Bible.  In days of old, most homes kept a family Bible.  Not only was the family Bible used for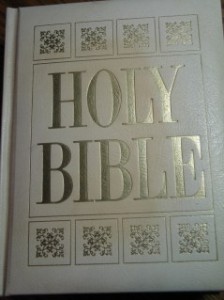 daily  reading and family worship, but it was also the place where the family records were kept.
When Copper and I were married in 1978, a friend of my family stopped by a few days before the wedding to visit with my folks and I.  She brought her family's wedding gift to my husband and I with her, and requested that I open it early.  The gift was a beautiful large Bible.  She had wanted me to open it early so that the "marriage" page could be filled out on our wedding day.   On the dedication page she had noted that it was presented to us on the occasion of our wedding by "The Dunn Family".  We did, of course, fill out the "marriage" page;  and to this day my husband and I have recorded the important events of our family's history in this Bible.
Today the Bible rests atop the antique secretary in our living room.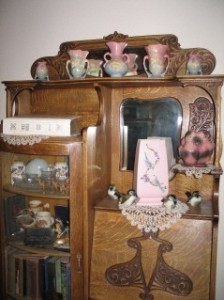 The front cover does not close completely because I also store important family momentos here.  Baptism certificates.  The memorial folders from the funerals of family members.  Newspaper clippings of birth and marriage announcements, as well as family obituaries and family wedding invitations.
There are several pages in the front of the Bible for recording marriages, births, deaths, baptisms, etc.  My children's births and baptisms are all recorded under their names.  The deaths of grandparents have been recorded.  Copper and I have recorded the deaths of three of our four parents here.  Our eldest daughter's marriage is recorded in the Bible, as well as the births of her first three children. The most recent entry records the death of our beloved Grandma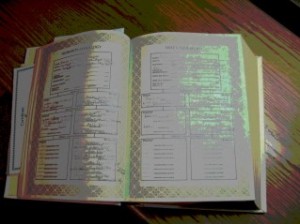 Nora.  The next entry will be in June when we record the birth of our fourth grandchild.
We don't use this Bible for personal reading, or for our family worship time.  We all have our own personal Bibles for such every day use.  However, I love the idea of having a family Bible.  I've not seen Mrs. Dunn or her family for many, many years, but I remember her often as I dust the Bible, or as I open it to read the history of my family recorded on its opening pages.  Our family Bible was one of the most memorable, useful and enduring gifts wedding gifts we received.
Be sure and visit Kelli's blog for more Friday Show & Tell!
God bless you as you look well to the ways of your households!
Proverbs 31:27