Today was a day of firsts, of sorts.  Less than a week ago we were using the wood stove in the evenings to keep us warm.  Today, is the first day of temperatures over 90° this year!  We live in a climate that sees many days over 100°, so the 90° mark doesn't feel quite so bad.  The house is opened up wide and the ceiling fans are in self-dusting mode and keeping us cool.  We even brought in an electric fan to run in the kitchen today as Dani baked cookies for church tomorrow.
The warm temperatures meant that the iced tea maker was brought out, and our first batch of iced tea of the season was made.  We drink sweet tea.  Neither of us were raised anywhere near the south, but I learned my iced tea methods from my best friend's mom (from Arkansas) and had my skill further refined by a friend from southeastern Texas.  Yep, we like our sweet tea!
Today was also the first day that I had to take more than one antihistamine for seasonal allergies.  It's also the day that I had to go back on both of my asthma inhalers.  Drat!  Just when I was thinking the allergy season would pass me by this year, it hit with a vengeance.  It's no big deal, really; it's just a time for rethinking getting some household duties accomplished differently (like dusting) so that my asthma remains controlled.  I think I'll swap some chores with Dani for the next little bit and see if we can't manage that way until the worst of the season is over.  I'm usually right as rain by June 1.
Not a first, but Dani made donuts for our Sunday morning breakfast.  She makes the great raised donuts that take a lot of time, but that are well worth the effort.  With today's warm weather, they rose quickly!  She makes the BEST donuts!!  She has even posted her recipe on her blog. Check it out!
I'm probably not the first to tell you this, but it's exciting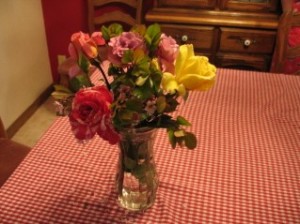 news just the same!  I read the wonderful news first on Brenda's blog .   Victoria Magazine is going to be published again!!!  The first bimonthly issue will hit the news stands in October!!  I'm looking forward to that first issue!
It's really too late in the day, but I can't resist.  I'm headed out to cut enough roses for our first fresh-from-our- own-yard flower arrangement of the year.  The thought of a vase of sweet-smelling roses on the headboard tonight has tempted me to throw caution to the wind, so I'm headed out into the pollen-filled outdoors to cut some roses and a few accent pieces to arrange.  Have a blessed Sunday!  (original post edited to add photo)
God bless you as you look well to the ways of your households!
Proverbs 31:27