I read this on someone's blog recently, "In Rare Jewel of Christian Contentment
, Jeremiah Burroughs said, "The way to be rich is not by increasing wealth, but by diminishing our desires.".  Dream if you will, but what you must do is learn to work with what you've got."
Oh, yeah!  That was my blog, huh?  When I started my Less Than Perfect Kitchen Series, I said just that! Well…..it was time for me to take a dose of my own advice!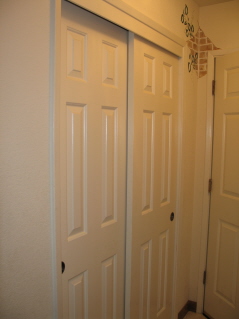 I have a huge pantry!  Well, I guess it's a pantry.  I'm not sure what the intention for this space was by the original owners.  It amounts to a double wide closet with shelves.  The fixed shelves are too shallow and they are poorly spaced.   It is in the back hallway of my home, leading from my kitchen to my garage.  My laundry room is also off of this same hall way (as is the master bedroom, which is really a weird set up!).  My "dream" pantry would be something like this – adjustable chrome shelving, matching lined wicker baskets to hold smaller shelf items, open air pull out drawers for spuds and onions, a built in wine rack, etched glass bi-fold doors and a light inside the pantry!  If you're going to dream, dream big, right?!!
I realize that I will likely never have my "dream" pantry.  What I've been hoping to do for the last several months is to repaint the inside of this pantry and see if I might re-organize it to make it more useful.  While I waited for the time and money to paint, the pantry got dirtier and the shelves became more and more disorganized. Having those doors to close kind of provided that "out of sight, out of mind" mentality for me.  However, keeping my homemaker's journal on my laptop means that the chore of cleaning and re-organizing the pantry kept popping up every month and the "date last done" box showed that this job was way past due.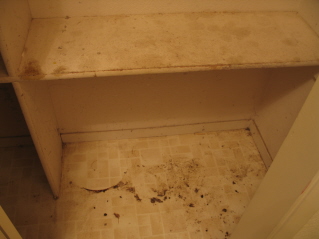 The first thing I did was to empty everything out of the pantry.  This allowed me to check expiration dates and toss expired items as I went.  When I was done, I was met with quite a mess!  The shelves were dusty, and downright dirty in the corners.  There were grease marks from oil containers and sticky residue from molasses containers.  The floor was covered in bits and pieces of dog treats, stray paper napkins (which we don't even use anymore!) and plain old dirt.  My bucket of wheat berries was stuck to the floor with what I can only assume was spilled honey. Yuck!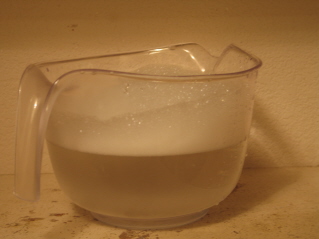 I mixed up some hot, soapy water and added just a bit of ammonia and went to work.  Starting at the top of one side of the pantry, I washed down the walls, shelves and shelf supports, one shelf area at a time.  I followed the washing with a thorough rinse of hot water.  The soap and ammonia cleaned everything up beautifully, even the oily stains.  My pantry was now clean.  I scrubbed away a great deal of paint in the process, but it was clean! The pantry could really use a fresh coat of paint, as well as some nice shelf liners, but neither are in the budget right now, so I'm happy with clean!
I allowed the damp wood to dry in the air for awhile before I started putting things away.  In the meantime, I began sorting through my pantry items and putting them in groups of things that belonged together.  As disorganized as the pantry was, things were, more or less, together, so this didn't take too long.
One thing I did want to remedy was the fact that half of my pantry is blocked off frequently.  Here's the  situation – the cooling breezes in my area come from the south/south-west.  There are no windows on the south side of my house, but our large garage door opens to the south.  A few years ago, Copper installed a screen door into our garage, so that we can open up the big garage door and the door into the house and allow the breeze to come in.   (It also gives our dog, Dixie, a nice view of the chicks in the brooder box in the garage!)
When the door into the garage from the house is open, though, it blocks half of the pantry.  This makes it very inconvenient to access pantry items on that side.  I made up my mind to put the more frequently used items (baking supplies, oil, snacks, etc.) on the left side of the pantry, and reserve the right side for things that are not used quite so often.
I wiped down jars as I replaced them.  I relabeled jars that were missing labels.  I pulled out a couple of Tupperware lunch plates to put under my "sticky" containers of Karo syrup and molasses.  Before long, everything was back in the pantry.
When all was said and done, I ended up with not only a clean and neatly organized pantry, I found that I also have quite a bit of unused space in there!!!  Woo hoo!!  Here's a finished look at both sides of the pantry…..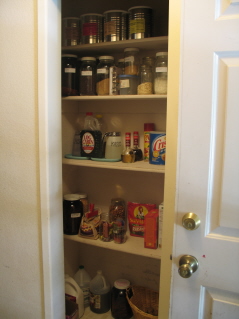 The left side has my cans of long-term storage items up top; our jars of specialty flours, nuts, coconut, baking chocolate, etc. on the next shelf; oils, vinegars, syrups, etc.; snack foods, cold cereal (Here's where I hid your microwave popcorn, Honey!); and the gallon jugs of vinegar & oil, the dog's treats and my basket of spuds on the floor.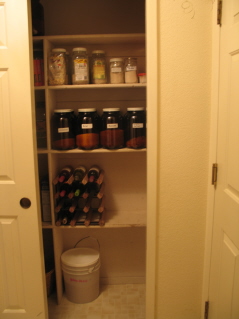 The right side has our jars of hot cereal, broth and meatless gravy mixes on the second shelf; the jars of pastas and rice on the next shelf; our wine rack; with only my bucket of wheat berries on the floor.  The top shelf on this side is empty, as is 2/3 of the bottom shelf and most of the floor!
Yes, the pantry still needs paint, and shelf  liners would have helped make the shelves easier to wipe down in the future; but I am happy with the results of a few hours of work!   Next month I will simply need to straighten up the items on their shelves and wipe up any spills.  I won't need to thoroughly empty and clean the pantry until next April!