I've not had a this and that post for awhile, but today is definitely a this and that sort of day!  Copper took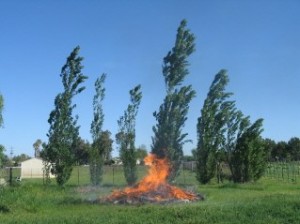 advantage of the cool morning, and took care of our very large burn pile.  We accumulate quite a bit in the way of tree trimmings, etc., in the course of a year.  It's always nice to have that big pile gone for awhile.
We had a wonderful day on Sunday.  We celebrated our Lord's resurrection with our church in the morning. We then spent the afternoon at home having an all-American Easter celebration with Corin and her family.  My daughters have already posted quite a bit about our day here and here.  It was really a delightful day.
Those cute little chicks we bought a couple of weeks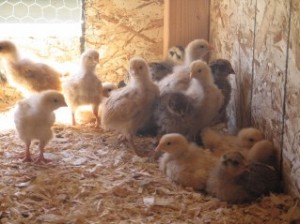 ago are growing quickly.  They are still cute, but just barely.  In another week or so, they will begin feathering out and will go through a really awful, ugly stage.  I'll be sure to post pictures of them then, too for those of you who thought they were cute when they were little.
On Friday I was able to buy most of the plants I needed to finish fixing up a large corner flower bed in the front
yard.  I have planted I don't know how many shrubs and such in that bed over the years we've been here, trying to make it a pretty, low maintenance spot once it's grown and filled in.  The former owners grew garlic and onions in it!  I had some lovely Escallonia in there for a time, but the wild turkeys would break the branches while foraging for bugs.  The Escallonia was slow to recover and ended up looking lopsided.  Out it went.  I had a nice variety of Euonymous in there for a couple of years.  Some of them grew well, while others just sat there.  Doing nothing. Out it went.  I have, I think finally found what works.  I bought small size shrubs to fill in, but I know that they'll be nice and big in just a season or two.  I'm hoping with my husband's next paycheck to pick up two mature India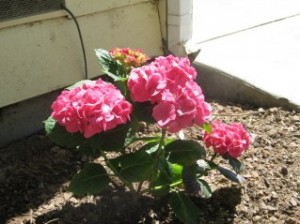 Hawthorne for behind the vintage pump and some small bark to mulch with and it will be done.  I don't usually splurge for the larger plants, but I don't want the two new Hawthornes to be lost behind the existing bushes.  As you can see, I haven't quite got all of the bermuda grass pulled out of there yet, either!
Remember the azaleas and hydrangeas I planted a few weeks ago?  They are doing so well!  The azaleas are  almost done blooming for the year, but they are putting on new growth like crazy!!  The hydrangeas are still blooming and putting on bud after bud!  I think they are happy in their new home!  I'm anxious to get the bark to mulch this bed, too, before the weather turns hot.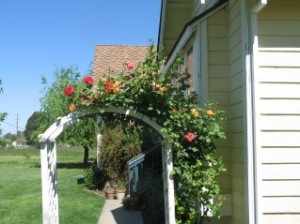 My climbing rose is blooming!  It is a Joseph's Coat  that Dani found in a discount bin at the end of the bare root season several years ago.  I think I paid $2 for it, but it has rewarded us yearly with gorgeous blossoms from April through October or November.
My eight year old has had way TOO much sugar in the last few days.  He's enjoyed it immensely, but the treats have done their work on his Tourette's/OCD/ADHD/QRS/TUV/WXY&Z and have virtually eliminated all of his filters for stress and sensory input.  I kid you not, I had this dialogue with him this morning, "Get up off the floor, pull the blanket off your head, get up off the floor, pull the blanket off your head, get up off the floor, pull the blanket off your head" (repeated over and over and over again).  It really was funny!   He got up from crawling on the floor every time I told him to and then put a blanket over his head.  He'd take the blanket off his head every time I told him to and immediately return to his hands and knees on the floor . If you've never lived with a special needs child, it's very easy to judge and say he just needed some firm discipline.  That is often quite true with my son, but it wasn't the case this morning.  He was not being disobedient.  I finally broke the streak by having him hand me the blanket and getting him focused on another physical pursuit.  Refocusing a boy whose filters are broken is a several times daily task!  Right now he is focused on doing his math lesson……Several feet off the ground on a branch in one of our Sycamore trees!  I knew the Easter candy overload would do this to him, and I'm making allowances for it  for the next several days.  This too shall pass.  In the meantime, we made some wonderful memories on Sunday that included way TOO MUCH candy!
This is the week that I concentrate on the monthly/quarterly/semi-annual chores in the area that contains my
kitchen.  I am ashamed to say that my pantry has not had a thorough cleaning in about a year.  It's pretty gross in there, but I plan on remedying that in the next couple of days.  My pantry is another one of those areas in my home that just doesn't suit our purposes very well.  However, it is a nice large pantry and gives me a lot of storage space in my kitchen and I am thankful for it.  One of these days, Lord willing, I'll be able to pull out the fixed shelving that just isn't deep enough or the right height and install something more functional for us.  In the meantime, though, I will be thankful for what I have and will get it cleaned up and re-organized.
If you haven't been by to check on Karen lately, be sure to do so. She's feeling much better, but she can still use our continued prayers!
God bless you as you look well to the ways of your household!
Proverbs 31:27