My husband was being very mysterious.  All he'd say was that we were going on an "outing" on Tuesday and that we'd have to leave the house by 10:15.  And that we'd be outside.  In the sun.
It turned out that my husband had received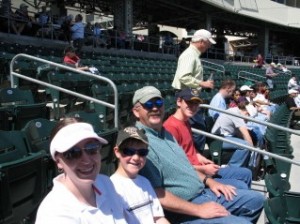 complimentary tickets to a AAA ball game!  We had great seats  behind home plate about 20 rows up.  Awesome seats for free.  We had a blast!!!  The game was actually a good one, with the visitors taking an early lead.  The home team rallied with a three run home run mid-game.  The visitors again took the lead, but the home team pulled ahead late in the game with some great base stealing to advance the runners and then a sacrifice out to bring the winning run home.  I'm thrilled that the boys saw such a fun game, including a home run!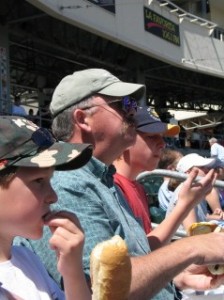 The guys and Dani had hot dogs for lunch.  What else  would they have at a ball game???   I had a Brat with grilled peppers and onions!!  Whoo-baby, was that yummy!   We hooted and hollered and cheered!!!  We did the wave.  We sang "Take Me Out to the Ball Game" during the 7th inning stretch.  This minor league team does an outstanding job of making their ball park a family friendly venue, and there were several fun activities with prizes throughout the game.  In one contest, the crowd was searched to find the best "chicken clucker" to award with the prize of a coupon for a bucket of KFC chicken.  Folks were clucking like nuts all over the stadium.  Guess who won!!!  We did!!!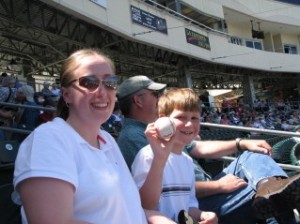 Another highlight was the foul ball that headed our way and bounced into the empty seats behind us.  Dani  reached back, scooped it up and presented it to her youngest brother!!  Too much fun!!!
We've all thanked my husband multiple times for our fun outing.  Days like today are the kind that we talk about for years!  It was definitely a memory-maker.
God bless you as you look well to the ways of your households.
Proverbs 31:27