We all need a little pick-me-up from time to time.  Thanks to all of you, I've gotten just that!  One of you, my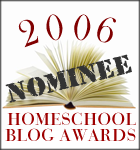 friends, nominated my blog for the Homeschool Blog Awards.  Copper's Wife has been nominated in The Best Homemaking or Recipes Blog category.  I am blessed beyond measure!  Thank you.
There are several Homeschool Blog Award categories and oodles of blogs nominated in each one.  Head on over to their site and vote for your favorites.
And my friend Kendra, over at Preschoolers and Peace sent another Thinking Blogger my way. You can click here to read my five choices.  By the way, if you are homeschooling with preschoolers in your home, or even if you are not, Kendra's blog and accompanying web site is a wealth of great information for all homeschoolers.  Check it out!
Thank you, my friends, for this encouragement!
God bless you as you look well to the ways of your household!
Proverbs 31:27