Opening the pool!!!  We had some really hot weather late last week and earlier this week.  The temperatures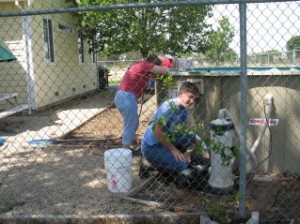 were flirting with triple digits.  This last Tuesday Copper decided to open up the pool.  Of course, as things would go, one of our filter hoses had become brittle over the winter months and sprung a few leaks.  After two separate trips to town to buy the right hose, it looks like we're in business!  The shock treatment has been put in and the filter is purring.  I am thankful that the Lord sent us some cooler weather in the latter part of this week.  We should have the pool ready to go before the next hot day.
Of course, discovering a leaking pool hose meant that we had to release quite a bit of water from the pool in order to remove the hose and replace it.  We have very little in the way of landscaping done in our backyard yet, which means that our water loving lab, Dixie, has had a blast splashing through the mud made from the drained pool water!  Dixie is also a house dog, which means that she's had to be bathed every day!  Goofy dog!
I made a trip to town mid-day today to pick up a few things (like the filter hose!).  I had a coupon for $6 at the Hallmark Gold Crown store, so I stopped in to pick up a few cards to have on hand.  It was hard.  There were crowds in front of the Mother's Day card displays; and I cannot tell you how heart breaking it is to me to not have a mother, or mother-in-love, to send a card to anymore.  Ladies, love your mommas while you have them!!  Even if you're mad at them (which is a whole 'nother thing – remember that 5th commandment!).  Even if they're mad at you.  Even if they don't like your husband.  Even if they don't approve of your homeschooling, or your faith, or ….whatever.  Love your momma!  Give her a call on Sunday to tell her that, too!
By the way, do you know about the Hallmark Gold Crown Card?  It's really a great deal!  You can sign up for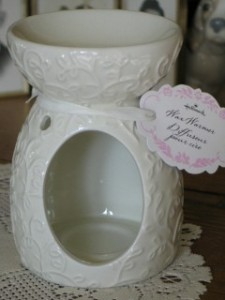 free at any Hallmark Gold Crown store.  You present the card each time you make a purchase in a Hallmark Store.  Yes, there are Hallmark cards at Wal Mart, but I don't care for the selection there.  The prices are no higher at the actual Hallmark store and the selection is wonderful.  In exchange, Hallmark will send you promotional offers from time to time.  Today I was able to purchase a lovely ceramic wax warmer for just $4.95 with the purchase of three cards.  I'm going to put the wax warmer aside on my gift shelf.  Wrapped with a few Yankee Candle tarts, it will make a lovely future gift!  Hallmark will also mail you coupons for money off in their stores after you have bought a specified number of cards there.  That's how I came to have my $6.00 coupon today!  With my coupon, I bought six Hallmark cards and the ceramic wax warmer for $12!  I always feel extravagant sending Hallmark cards, but I enjoy doing it.  The Gold Crown Card allows me to be frugal and extravagant all at the same time!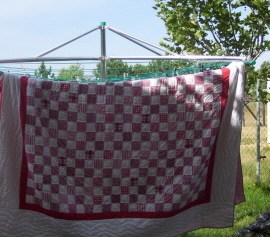 Clothes on the clothes line is surely a sign of the season.  Friday is   Dani's laundry day, so she was able to hang several things out to dry in the breeze.  Tomorrow is a big laundry day for me, and I am so looking forward to having sweet smelling, naturally-dried sheets on my bed tomorrow night!  The forecast is calling for a breezy day in the mid-to upper 70's tomorrow.  That sounds like perfect clothes line weather to me!
One not so pleasant sign of the season is the sign that slugs and/or snails have been about.  Several of my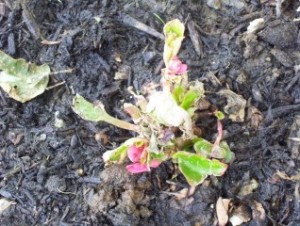 begonias have been used for a nightly feast.  Another item picked up in town today was a slug and snail bait that is safe to use around pets.  It took some label reading, but I found one made by Garden Safe.  It needs to be applied after watering, so I'll get this stuff spread tomorrow evening.
We've also had several combines and big discers traveling up and down our road this week.  There's a lot of hay cutting and corn planting going on!  When I went to town today I thought that there was a fire down the road. When I got closer, though, I realized that it was a farmer out plowing his field!!  It's been dry here, so there was a lot of dust blowing in the breeze.  My poor van is a mess!
Are you finding signs of the season around your home?  What lets you know that it is spring in your neck of the woods?
God bless you as you look well to the ways of your households!
Proverbs 31:27