What is it about spring?  Maybe it's the illusion that the days are longer, when in fact they are not.  There are still 24 hours in each and every day.  Yes, I know there are more hours of daylight, but there are still just the same 24 hours.  Yet, those extra hours of daylight, if we care to spend some time out of doors in them, can be invigorating and give us more energy.  That's a good thing!
Maybe it's the whole idea of spring being a time of rebirth.  The trees have leafed back out.  The fruit trees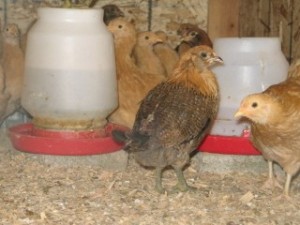 have tiny apples, pears and peaches on them.  My blueberries are loaded with little still green berries.  The roses are blooming.  The birds who nest yearly in our attic have returned.  We can hear them building their nest when we open Dani's closet doors, merrily chattering away to one another.  Our baby chicks are fuzzy babies no more, but now look like small chickens.  Rather ugly small chickens, but chickens nonetheless.
Whatever the cause, my brain has been quite busy this week.  Planning.  Contemplating.  Studying.  Thinking, thinking, thinking……..
I mentioned that my allergies were in full bloom (bad pun, I know!), and yet my house still needs to be dusted. I toyed with a few ideas on how to handle this for the remainder of allergy season, but then just decided that it was time to bite the bullet and tweak the household routine for a few weeks.  Instead of doing a bit of dusting and Webstering every day, I'm just going to do it all in one day and have it done.  I dusted everything Thursday afternoon and became the poster child for allergy sufferers!
Dani arrived home just as I was finishing up, and she brought me a HUGE diet Coke from McDonald's. (Nobody can mix a fountain Coke like McDonald's!!  None better!)  I was able to take an antihistamine, wash it down with my big, cold Diet Coke and then sit down and rest and chat with Dani for a bit.  That's when I noticed that I'd dusted everything except for the school room.  Sigh………I think I'll ask a boy to do it for me later.
There have been many other things my brain has been pondering though.  I've been thinking about ways to bring down our grocery bill.  I've been thinking about ways that I can lose some weight without buying expensive foods and without needing to cook for myself differently than I do for the rest of the family.  I've been thinking about ways to get a few outdoor projects done this summer on a very limited budget.  Ditto one or two indoor projects.  I've been thinking about adding one more read-aloud time to our day, one just for my youngest boy. I've been thinking about fall and my oldest boy's first year of high school.
All that thinking and pondering has been fruitful, though.  I've decided to go back to an old, tried and true method to reduce our grocery bill and to get us back on track financially in that area.  I've decided to lose some weight the same way I used to keep myself thin when I was younger. The best part is that I'll be able to work on reducing the food bill while I work on reducing me!
I've spent some time scouring about the Internet and reading some new-to-me blogs on frugal living and have developed a few ideas for, hopefully, getting my projects accomplished before fall.  Time, of course, will tell how successful I am, but I'm certain that the outdoor projects will at least be started, and at least one indoor project can be accomplished. I've done quite a bit of planning for my son's first year of high school, and I'm about ready to start finalizing some of that planning.  I've made the decision to do the extra read aloud time with my little guy, and now I just need to decide on the exact time and begin working on a list of books for us to use for this time.
Yes, I've spent a lot of thinking time this week, but I'm glad, at the end of it, to know that my mental muscles still work!   I'll have some posts to share with you next week about these things, beginning with my plan for reducing the grocery bill. Until then…….
God bless you as you look well to the ways of your household!
Proverbs 31:27