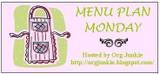 If you remember this post, you'll know that I'm working on planning my menus as a way to reduce our grocery bill.  As I mentioned then, I'm working on stocking my pantry and freezer with sale items and then planning my menus based on what I have on hand.
You'll notice that three of the lunches are left for "Dani's choice".  I am working on planning lunches in advance too, even though Dani makes our lunch everyday.   However, since she will only be home for a few more days before her big trip, I'm just going to let her make whatever suits her fancy for those last three days!
If you are new to meal planning, or if your menus could use some fresh ideas, be sure to check out Menu Plan Monday over at I'm an Organizing Junkie!
MONDAY:
Breakfast:  Waffles
Lunch:  Dani's Choice
Dinner:  Marinated grilled Chuck Steaks, fried potatoes, steamed broccoli with butter & lemon pepper
TUESDAY:
Breakfast:  Cereal
Lunch:  Dani's Choice
Dinner:  Spaghetti, green salad, garlic bread
WEDNESDAY:
Breakfast:  Toast and eggs
Lunch:  Dani's Choice
Dinner:  BBQ Chicken Pizza, green salad
THURSDAY:
Breakfast:  Scottish Oatmeal
Lunch:  Cheese Quesadillas, green salad
Dinner:  Hamburger steaks with mushroom gravy, mashed potatoes, green beans
FRIDAY:
Breakfast:  Pancakes
Lunches:  PBJ Sandwiches, chips
Dinner:  Teriyaki chicken thighs, rice, ambrosia fruit salad
SATURDAY:
Breakfast:  Cereal
Lunch:  Egg Salad sandwiches, chips
Dinner:  Enchilada Casserole (with rice), Green Salad
SUNDAY:
Breakfast:  Streusel Coffee Cake
Lunch:  Fellowship Lunch at church – I'm taking Oven baked chicken, sliced peaches and oatmeal chocolate-chip cookies
Dinner:  Wild Dinner (Which means we basically have snacks for dinner – popcorn, left overs, whatever)
God bless you as you look well to the ways of your households!
Proverbs 31:27