We are hearing from Dani most every day.  Sometimes I have a chance for a lengthy phone conversation, and other times it's just a couple of minutes.  She is having a wonderful time, and she is homesick.  And, yes, those two things can co-exist in one twenty-something young woman who loves home!  Dani is spending Memorial Day weekend in Washington, D.C.  She visited Arlington yesterday and was very moved.  Today she, and the family she is travelling with, will attend the Washington D.C. Memorial Day parade.  What memories!  She's not had a chance for a second post, but check her blog often just in case.
Speaking of wayward girls, (okay, Dani really isn't at all wayward, but it seemed like a good segue), Corin's baby girl has, so far, absolutely refused all encouragement to turn herself to the proper head down position in preparation for her birth.  Corin has done all the weird exercises.  She's contorted herself into all of the recommended positions.  She's had a few visits to the chiropractor.  And she has undergone the "version" procedure at the hospital.  All to no avail.  I will have the three grands here tomorrow afternoon while she goes in for all of her Pre-Op visits and labs and to give the chiropractor one last try, and then the babies will all be here for several days starting Thursday while Corin has her C-section and required hospital stay.
Okay, that's the plan!  However, this momma is still praying that the Lord will intervene and turn baby-girl beforehand.  We will, of course, accept the Lord's will in this matter and know that it is best.  In the meantime, though, I will be spending a lot of time talking to Him about it and laying my cares at His feet.  Join me?
Our berries are ripening!  I picked about a cup and a half of the very first blueberries last night and started our freezer stash with those.  Okay, okay, I probably picked closer to a pint of blueberries, but only a cup and a half made it back into the house!  There is nothing like a ripe blueberry fresh from the bush!  I also picked a quart or so of our Young Berries and Black Berries.  They have just sort of grown together, but they are so similar it's okay.  We will definitely have the first fresh berry pie of the year for dessert tonight!!
Remember the silly wild turkeys I told you about last fall?  Well, apparently, they've had a rather productive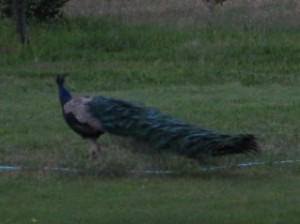 spring.  There are hens with various size broods visiting us daily.  One hen has about 8 babies, another just a single baby.  Up and and down the road I've seen more hens and more babies.  Not sure where all of the toms are hiding, but the proof of their existence is in all of the babies!!!!  And we have another peacock (or copeak as he is affectionately called here).  Copper caught him strutting about on our front lawn Saturday evening.  Hopefully this guy won't meet the same fate that the last one met.  He is a very noisy bird, and several of the neighbors aren't too thrilled that he's around, but I really do enjoy hearing and seeing him.
Do enjoy your long holiday weekend.  Any special plans?
God bless you as you look well to the ways of your households!
Proverbs 31:27