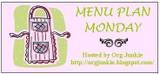 Lots of kid-friendly dishes on the menu this week!  Copper is back to his normal work schedule and will only be home Monday and Tuesday.  Wednesday should be a day off, but he has asked for an overtime shift that day.  Tacos, which he loves, are on the menu for Wednesday, so I'm set either way.  I have several items marked with an * on this week's menu.  If any of the marked dishes look good to you, check back late in the day that those dishes are planned and I'll post the recipes then.
Having my menu planned this last week has really helped me stay on track and on budget.  I'm still working towards the food budget goals I talked about in an earlier post .  I can already tell that having my menus planned in advance is helping me work towards that goal.
1. With breakfasts planned we're not eating expensive cold cereal every single morning.
2.  With lunches planned we aren't having convenience-type frozen foods more than once a week (this week it's the taquitos for Monday's lunch).
3.  With dinners planned we are having a nicer variety of foods than we were having before, and I'm remembering to make special things that need advance preparation (like today's deviled eggs, potato salad and jello salad!).  Advance preparation time (which is possible because of my menu plan!) also enables me to prepare much more economical meals that only require a bit more of my time.
If your menus need a boost, head over to I'm an Organizing Junkie for her Menu Plan Monday and check out what some of the other gals have planned for this week.
Monday
Breakfast – Dad's Waffles
Lunch – Taquitos, green salad
Memorial Day Dinner – Grilled cheeseburgers, deviled eggs, potato salad, Cherry Pie Jello Salad and maybe, just maybe, some Granddad Berry Pie
Tuesday
Breakfast – Cold cereal
Lunch – Double Decker Grilled Cheese sandwiches, chips
Dinner – Cherokee Chicken, left over potato salad, left over Jello salad, rolls & butter
Wednesday
Breakfast- Toast and eggs
Lunch – PBJ Sandwiches, fruit
Dinner – Tacos, Spanish Rice, green salad
Thursday
Breakfast – Rolled 5 Grain (hot cereal)
Lunch – Cheese Quesadillas, fruit or green salad
Dinner – Stroganoff Meatballs, pasta, steamed vegetables (Normandy blend)
Friday
Breakfast -Pancakes
Lunch – Fast food out – shopping day (I'm working on phasing this out!)
Dinner – Spaghetti, green salad, garlic bread
Saturday
Breakfast – cold cereal
Lunch – Cheese, crackers, sliced apples
Dinner – *German pancake with hot buttermilk syrup, sausage patties
Sunday
Breakfast – *Chocolate Swirl Coffee Cake
Lunch – Weekly church fellowship lunch, I'm taking a couple dozen *baked chicken thighs, a crockpot of baked beans, and a platter of Gingersnaps
Dinner – Wild Dinner (Everyone on his own for snacks, left over coffee cake, popcorn, whatever!)
God bless you as you look well to the ways of your households!
Proverbs 31:27