The menu says, "Salisbury Steaks, mashed potatoes and brussel sprouts" for dinner tonight!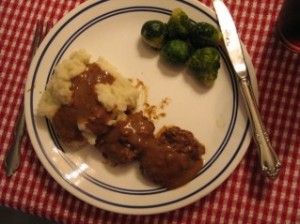 This fairly quick and easy recipe is a favorite here.  In the cold weather months I finish it up in the oven; but in the warmer months I appreciate being able to make the entire thing in my large electric skillet.  It's supposed to be 94° here today, so this will be made in the electric skilliet tonight!   If your family is larger than mine (or if you want to make this for company), it doubles just fine.  The recipe makes a nice amount of very tasty gravy, so I usually make mashed potatoes or rice to serve with the Salisbury Steaks.
Copperswife's Salisbury Steak
1 can cream of chicken soup
1 can cream of mushroom soup
1 T. prepared mustard
2 t. worcestershire sauce
1 t. horseradish
1/2 cup water
2 t. Kitchen Bouquet (browning sauce)
1 1/2 lbs. ground beef
1 egg
1/4 cup dry bread crumbs
1 package dry onion soup mix
2 t. dry parsley flakes
1/4 cup water
Mix together the canned soups, mustard, worcestershire sauce, horseradish, water and Kitchen Bouquet.  Set aside.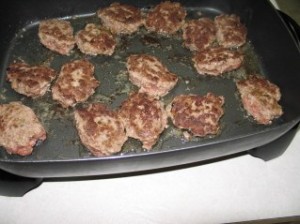 Combine remaining ingredients, mixing well.  Shape meat mixture into oblong patties (I start with a ball about the size of a golf ball and then make the oblong patties from that).  Brown in oiled skilled on both sides.  Drain off grease.
Pour gravy mixture over patties and cook in covered skillet over low heat for 30 minutes
(or in covered casserole dish in oven at 350° for 40 minutes).  Spoon gravy over meat occasionally while cooking.
Serve with mashed potatoes or rice to enjoy all of that wonderful gravy.