The sheets are hanging on the line to dry.  I washed the liner of my rickety old wonderful vintage laundry cart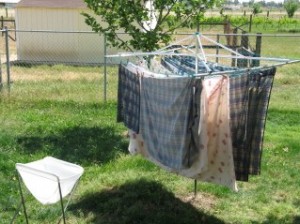 with the first load of sheets this morning, and I have left it out to dry in the sun.  By the time the sheets are dry, it will be dry and I can bring the fresh clean sheets in and make up the beds.  I think I will leave the top covers off and fold back the blankets to allow some of that lovely fresh linen scent to fragrance the bedroom.  (I had to laugh when I saw this picture….that's our little feed barn in the background.  You can see the long dirty rub marks on it where out goats like to scratch their sides on the wood!)
Aaron showed a LOT of initiative this morning, and,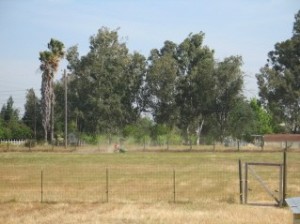 with very little prompting from me, was out at 7:30 this morning mowing our fire breaks.  We've had a very dry year here, and our local fire department is urging us to get the 30' breaks mowed early  this year.  It's quite windy today, and poor Aaron's allergies really flared out mowing that field.  He needed to mow a 30' break along our main road, along the dirt road that runs along the side of our property(shown in this picture), and then across the back.  It took him the better part of two hours, but he did a fine job.
As you can see from this last, the pasture where we graze our little flock of sheep runs from our busy road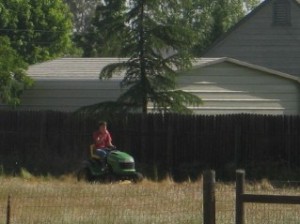 all the way back to this wooden fence that belongs to our phantom neighbors (I think the property has been abandoned.).  We need to be sure the fire breaks are in place so that a stray spark from the roadway doesn't race across our pasture and burn down their house!  The sheep will have this entire field eaten down to stubble by summer's end.  I looked at it in amazement this morning.  Just a week ago, the entire pasture was lush and green, and now it is almost entirely brown.
Saturdays are busy days here, as I'm sure they are for you.  Enjoy your Saturday, and for all of you who are moms……….
Happy Mother's Day!
God bless you as you look well to the ways of your households!
Proverbs 31:27