For about 15 years now, Sunday morning breakfast in our home has been some form of coffee cake.  The coffee cake is always made Saturday afternoon or evening.  Coffee cake for Sunday morning breakfast helps us to get ourselves ready for church with minimal preparation and clean up, and it's tasty to boot!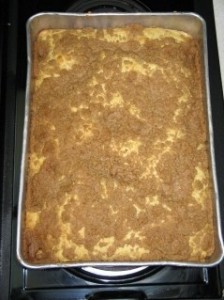 Our repertoire of coffee cake recipes has expanded greatly in that time.  Some are great favorites.  Some are holiday or seasonal specialties.  Some are quick and easy and others require a bit more time.
With Dani out of town I was already leaning toward making a quick and easy coffee cake this afternoon. **Corin has now gone to the hosptial so that the doctors can try to turn baby girl from her breech position, and I have all three grandbabies here with me. Now I'm doubly glad that I chose a quick and easy recipe! I was able to mix it in a hurry with the little ones toddling around and asking questions, and pop it into the oven a few minutes later.
**As soon as I posted this, Rob called from the hospital to say that the hospital was too busy to try the version procedure today, so Corin and Rob are on their way home!
This Streusel Coffee Cake is quick, easy and delicious. The streusel topping makes it just sweet enough. The secret for the speed and ease is using baking mix. It's great for breakfast, or to serve with coffee or tea any time.
Streusel Coffee Cake
Cake:
4 1/2 cups Bisquick
1 1/2 cups milk
1/4 cup sugar
2 eggs
Streusel Topping:
3/4 cup Bisquick
2/3 cup brown sugar, packed
1 teaspoon cinnamon
1/4 cup butter, firm
Pre heat oven to 375°.
Stir cake ingredients until blended.  (I use my whisk.)  Batter will be very thick.   Mix streusel ingredients separately, and cut in butter in with a pastry cutter.  Spread cake batter into a greased 9 x 13 cake pan.  Sprinkle streusel evenly over top.  Bake 25-30 minutes.
Please note:  All original written material, photographs, recipes and tutorials on this blog are the sole property of the author and may not be copied, in whole or in part, or re-printed elsewhere, without the express written permission of the author.  Recipes, of course, may be copied for your own personal in-home use!