I wear aprons. I wear them daily.  I've even blogged about it before.  Most days, I wear them all day long, only taking my apron off when I sit down to eat dinner with my family in the evening.  I really consider it a form of good stewardship to protect my clothing with an apron . I also just enjoy the idea of wearing aprons.  It's sort of an old-fashioned charm that I enjoy.  I keep a nice assortment of aprons hanging on the hook in our kitchen, and these change with the seasons.
Of course, there are days that I find myself doing something in the kitchen or outside turning on irrigation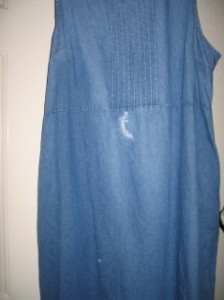 without my apron.  Sometimes I'm fortunate and don't get myself too dirty before I can get an apron on.  Other times I end up having to change my clothes in the middle of the day because I've spilled something on me, or splattered mud on myself.  Then there are still other times, like yesterday, that break my heart.
I loaded the dishwasher yesterday after lunch without wearing an apron and, somehow or another, got some of the liquid dishwasher soap on my denim jumper.  DRATS!!!  As you can see, it's now a garment suitable for wearing for yard work or painting, but ruined otherwise.  What a shame!  And all for the want of remembering to put on an apron!
Pamela from The Welcome Home blog had a great article on aprons yesterday.  Of course, I didn't get over there to read it until AFTER I'd forgotten my apron yesterday and ruined my dress.  Still, head on over and check it out.  I thought it was a wonderful article!!
God bless you as you look well to the ways of your households!
Proverbs 31:27