I've been tinkering this week.  Lots of just little bitty needful things.  Here's just a sample.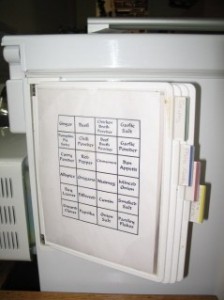 I bought this really cool refrigerator binder thing last summer.  The idea of the thing is great.  The reality of it,  though, is the pits.  For one thing, the front of my fridge is sort of curved, so I ended up putting it on the side of my fridge.  The real problem is that the magnets on it are really just not strong enough to hold it straight.  My husband even bought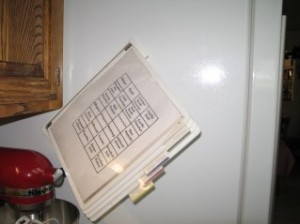 more magnets and glued  them onto the thing, and it still went catawampus on us all the time! Grrrrrr…….very frustrating.  However, this is where I keep some of my every day recipes (whole wheat bread, bread sticks, pie crust, etc.) as well as some other frequently used kitchen notes, coupons, etc.  What to do?
In my back hall way there is a medium sized wicker basket.  We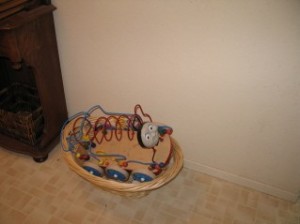 use this basket for things that need to go out the back door to be taken out to my husband's shop, to our storage barn, or to be taken to someone else's home. I spotted this basket today and realized that the same three or four things had been in there for way too long.  A toy that my husband needs to repair.  The instructions for my husband's Dremmel tool.  An adhesive backed cork board strip. Time to deal with this basket!
The toy and the Dremmel instructions were taken to my husband's shop.  I added a note to my husband's "Honey Do" list to repair the toy and also noted that it was now in his shop.  And the cork board strip?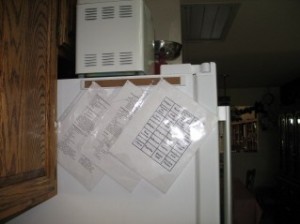 The cork board strip is now attached to the side of my fridge.  The fridge binder is in the trash.  All the  important notes that were kept in the binder were slipped into protective sleeves and hung on the corkboard strip. The coupons that were in the binder are now on the message & key board by the back door where they can be grabbed as we head out to the car.
The basket is now empty (and the floor has been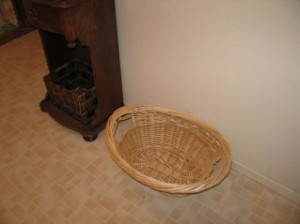 swept!!)  The side of my fridge now holds the information I need without being a constant source of frustration!  Tinkering.  Just tinkering.
God bless you as you look well to the ways of your households!
Proverbs 31:27