When your grandchildren are not very much younger than your youngest children, it makes for some fun times.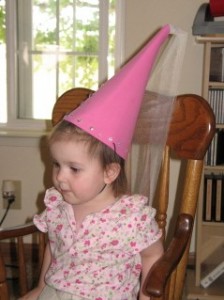 My boys are 13 and 8 and my grandchildren are 5, 3 (almost 4), 2 and T-minus 11 hours and counting.  We've had the grandbabies here several times lately and now they will be with us for the next few days.  Here's just a sample of the fun we're having.
When you are two years old and Grandma is still homeschooling her own children, it is quite proper for the "princess" to hold court from her mini-throne in the schoolroom.  Be it known, that said princess held court in a very humble, gracious and dignified manner.  She even willingly gave up her princess hat at naptime, but insisted it be returned to her royal head as soon as she awoke.
When you are almost four years old, it is very great to have an uncle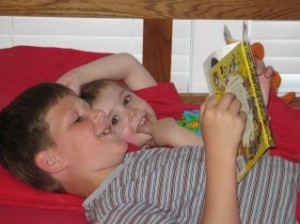 who is 4 1/2 years older than you! He is old enough to read you a story at naptime.  He is young enough to enjoy the story with you (and to ham it up when a camera appears in the doorway!).  But the coolest part is that he is still little enough to snuggle on the pillow and look at the pictures with you while he reads!!
Of course,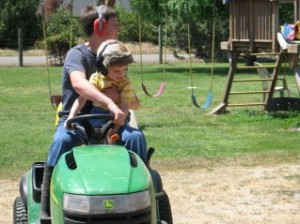 when you are five years old you are FAR too old to take a nap.  Well, sometimes Grandma lets you skip naptime anyway.  When you are five years old and have an uncle who is 13, it means that he is old enough to take you for a ride on Grandpa's little tractor.  A 13 year old uncle is old enough to be sure that you are both wearing ear protection (even though he often forgets to wear it himself when he's mowing).    And since he's still just a kid too, it was fun for the both of you!   However, we must be very careful to take our ride away from the house so as not to disturb the nappers!!
Heading out to the orchard so as not to wake up little brother and sister! 
God bless you as you look well to the ways of your households!
Proverbs 31:27