This is a quick and easy recipe that requires no eggs, nor the use of your electric mixer.  It is very moist and absolutely delicious. Our vegan friends love this cake, and so do we!
This cake is delicious served warm from the oven with nothing on top, and it's great when cooled and frosted.  Our favorite way of serving this is to lightly dust the top with sifted powdered sugar.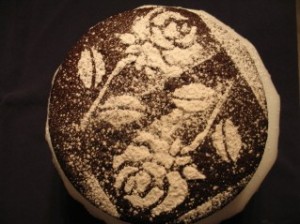 Chocolate Crazy Cake
3 cups flour
1/3 cup cocoa
2 teaspoons baking soda
2 cups sugar
2 teaspoons vanilla
2 cups cold water
1 teaspoon salt
2 Tablespoons vinegar
¾ cup vegetable oil
Mix the dry ingredients together well. Add the liquid ingredients all at once. Stir, but DO NOT BEAT!! A few small lumps are okay.
Pour the batter into an ungreased 9 x 13 pan and bake at 350° for 35-40 minutes, or until cake springs back when touched lightly in center.
The cake can also be made in two round cake pans and layered.  The cake in the picture was made for our Mother's Day celebration yesterday in two round cake pans.  Dani sprinkled a bit of powdered sugar between the layers, and then used a stencil and powdered sugar to decorate the top.
Please note: All original written material, photographs, recipes and tutorials on this blog are the sole property of the author and may not be copied, in whole or in part, or re-printed elsewhere, without the express written permission of the author.  Recipes, of course, may be copied for your own personal in-home use!