Did you have a wonderful Mother's Day?  I sure hope so.  I had a lovely day.  Dani made some wonderful cinnamon rolls for breakfast, not THE cinnamon rolls, but an almost as yummy recipe!  My husband and at home children gave me some lovely cards and gifts (a Starbucks gift card, a Bath & Body Works gift card, and a lovely stainless bathtub caddy that says it fits "extra wide tubs" that still isn't wide enough for my tub!)   After breakfast, we were off to church.  It was our turn for K.P. for our church fellowhsip lunch, and we had a great time serving our church family together.  We stayed and visited for quite awhile after we were done cleaning up, and got home  around 5ish.  We relaxed and watched a movie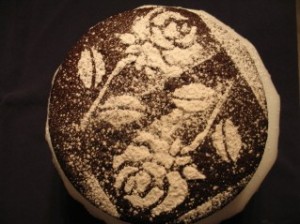 and enjoyed the evening together.
On Mother's Day Monday, though, Copper took us all out to a local steak house for dinner.  Corin and her family were included in the invitation.  Everyone came to our home afterwards for dessert.  Dani had made a beautiful version of my Chocolate Crazy Cake and adorned it quite simply, yet elegantly, with powdered sugar and a stencil!  Isn't it gorgeous?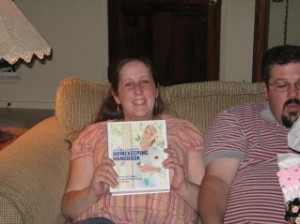 Copper and I gave Corin a copy of Martha Stewart's Homekeeping Handbook
as a Mother's Day gift.  As with all  things "Martha" this book is very well done and beautiful in the bargain.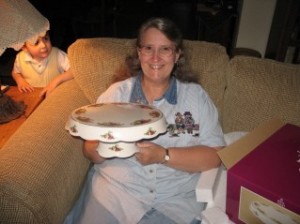 Corin and her family blessed me greatly with this beautiful Old Country Roses  cake stand that can be turned over and used as a chip and dip!  I LOVE it!
Of course, no visit would be complete without lots of lovin's from the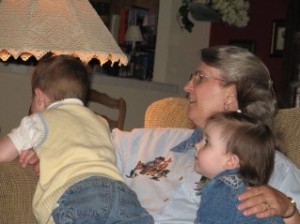 grandbabies!  My oldest grandson was a bit aloof last night, but the younger two had fun playing "Dixie-foo" (which is their name for our dog) and climbing on my lap to be "petted".  It was  lovely!  Corin starts her weekly visits to the ob/gyn this week, so I will have the joy of spending some time with my grandchildren Thursday afternoon, too!
I'll post the recipe for the chocolate crazy cake later today.  It's a quick & easy recipe that requires no eggs!!
God bless you as you look well to the ways of your households!
Proverbs 31:27