These are just a bit more work to make than a regular grilled cheese sandwich, but well worth the few minutes of extra time spent!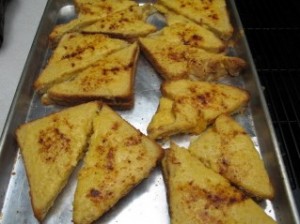 These sandwiches are great for lunch anytime of the year, and we love having them for dinner in the winter with a bowl of homemade tomato soup.  These are good on any type of bread, and I know that we all like it best when our families are eating whole grain breads.  However, I've got to tell you, these are absolutely "killer-good" on white bread!!  I compromised and made a loaf of white bread in the machine last night.
This recipe can be easily adapted to any size family by increasing or decreasing the ingredients proportionately.  I doubled the recipe for us today.  Left overs can be reheated in the oven the next day, too!
Double Decker Grilled Cheese Sandwiches
1 cup grated cheddar cheese (sharp cheddar is especially good)
1/4 cup butter, softened
1 egg
1/2 teaspoon garlic salt
1/2 teaspoon onion salt
6 slices bread
Paprika (optional)
In a food processor, blend cheese and butter.  Add egg, garlic salt and onion salt.  Process for one minute or until creamy.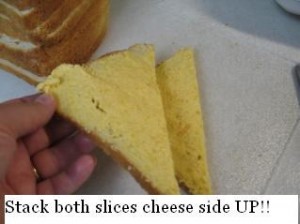 Spread 2 Tablespoons of cheese mixture on each slice of bread.  Stack two slices of bread BOTH with CHEESE SIDE UP.  Sprinkle with paprika if desired.  Cut each sandwich in half diagonally.  Place sandwich halves on an ungreased baking sheet.  Bake at 400° for 12-15 minutes, or until golden and bubbly.  Makes three sandwiches.
God bless you as you look well to the ways of your households!
Proverbs 31:27
Please note: All original written material, photographs, recipes and tutorials on this blog are the sole property of the author and may not be copied, in whole or in part, or re-printed elsewhere, without the express written permission of the author. Recipes, of course, may be copied for your own personal in-home use!