Tonight's dinner menu – Focaccia and a large green salad
A friend of mine, from days gone by, developed this recipe, and my family has enjoyed it ever since.  We use it as a meatless main dish, and everyone loves it, including my husband!  I make the dough up with my Kitchen Aid mixer, which makes the mixing and kneading almost effortless.
The key to the success of Tamara's Focaccia is to be heavy handed with the seasonings and to use the dried leaf varieties of oregano and basil, rather than the powdered type. Enjoy!
FOCACCIA
For the dough: Sprinkle 1 T. yeast over 1 1/2 cups warm water.  Let stand for 5 minutes.  Stir in 1/2 t. salt and 2 T. olive oil.   Add 2 1/2 cups flour and stir to blend.  Beat until smooth and elastic.  Stir in 1 1/3 cups more flour.  Knead for 10 minutes adding flour as needed.  Place dough in oiled bowl, turn to oil top.  Cover and let rise until doubled. Punch dough down.
Coat a large cookie sheet generously with olive oil.  Press dough into cookie sheet, pressing and stretching to cover entire sheet.  Let rise until double.  (Stopping here results in a great, homemade pizza crust, ready for your favorite pizza toppings!)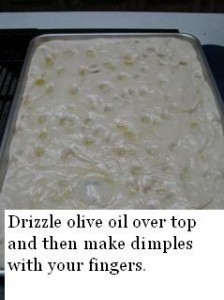 Now for the yumminess: Drizzle 2 T. olive oil over top of dough. Press fingers gently into dough to make dimples.  Sprinkle entire surface generously with coarse salt, oregano, basil, onion powder, garlic powder and pepper.  Cover completely with grated parmesan cheese (the real stuff, not the powdered stuff from the can).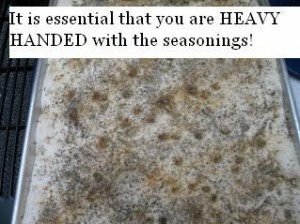 Bake at 400° for 15 minutes.  Top generously with grated mozzarella cheese and bake 8 – 10 minutes longer, or until cheese is melted and bubbly.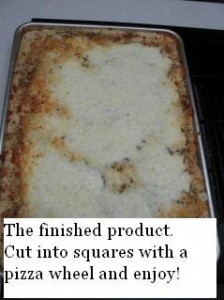 Please note: All original written material, photographs, recipes and tutorials on this blog are the sole property of the author and may not be copied, in whole or in part, or re-printed elsewhere, without the express written permission of the author.  Recipes, of course, may be copied for your own personal in-home use!