I like to make this chicken dish in the summer time.  I use my electric skillet and keep my kitchen cool.  It makes a nice, sticky sauce/glaze for the chicken and it's finger lickin' good!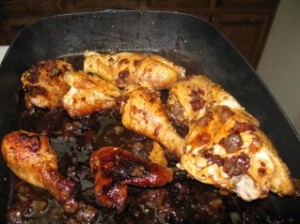 Cherokee Chicken
4 chicken breasts (or 6-8 thighs) (I double the sauce ingredients and use a whole, cut up fryer)
salt & pepper to taste
4 T. butter
1 clove minced garlic
1 medium onion, chopped
1 cup water
4 teaspoons molasses
4 teaspoons worcestershire sauce
Sprinkle chicken with salt and pepper.  Brown chicken in butter with garlic over medium heat in heavy skillet.  (I use my electric fry pan.)  Remove chicken and add onion.  Saute.  Add water, molasses and worcestershire sauce. Cook and stir for one minute.  Return chicken to pan, cover and cook on low for one hour, basting often.  The sauce will reduce and form a thick, sticky glaze for your chicken.
God bless you as you look well to the ways of your households!
Proverbs 31:27