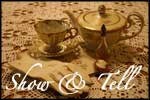 Do you remember the first thing you ever bought for your future home?  I cannot remember the very first thing I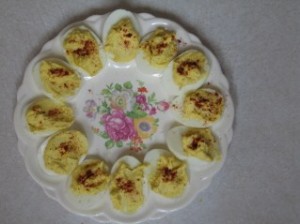 bought, but I do remember the summer I began buying things for my future home.  I think I was about 12.  We were in Missouri visiting my uncle and aunt, and we stopped at a yard sale.  The lady had several "old dishes" as she called them.  This egg plate caught my eye and I bought it.  I'm sure I didn't pay more than a quarter for it.  Here's the really funny thing – I didn't even LIKE devilled eggs back then!!
This plate is probably quite old, but I just keep it on the shelf with my regular serving dishes.  I used it to serve our devilled eggs this past Monday.  It makes me happy, now, almost 40 years after buying it, to know that the Lord was leading me to prepare for my future home way back when…..even though I didn't like devilled eggs then, even though I was sure I'd be a career woman then, and even though I didn't know the Lord then.  His hand in my life is so evident as I look back over the years.
Head on over to Kelli's blog for more Show and Tell Friday Fun!
God bless you as you look well to the ways of your households!
Proverbs 31:27