And here we are!!!  Grandma, Corin and Baby Girl!!  I am so sorry that I was not able to tell you more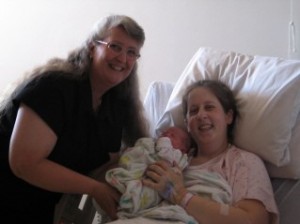 yesterday.  Corin was very strict with her instructions that Aunt Dani was to see pictures before any of you.  With Corin's surgery recovery lasting until early afternoon, and the grandkids naps lasting until late afternoon, we did not get to the hospital until after 4:00, and I didn't get home until 8:00.  I did not, of course, quite get my fill of cuddling that precious little baby!  I absolutely LOVED the fact that she wailed like mad for everyone, but enjoyed being held by Uncle Will and me!! 
Aunt Dani is three hours ahead of us, time-wise, so she was already most likely in bed by the time I was able to send her some pictures on line.  She's a good sport, though, and agreed to put this post up for you all early Friday morning as soon as she saw the pictures!
I know, I know, you all want facts and figures, more pictures and more information…..but it really is Corin's information to share, and I intend to let her do so.  I will tell you that my grand daughter is beautiful and the spitting image of her momma as a newborn!  Corin is doing very well, but she is tired.  I am some kinda proud of them both!  She will be home from the hospital sometime this weekend, and I'm sure she'll be anxious to share all the details with you then.  Until then, join me in praising the Lord for His hand in the birth of my fourth grandchild!!
God bless you as you look well to the ways of your households!
Proverbs 31:27