We headed to town to run a few errands today and stopped in at the American Cancer Society Discovery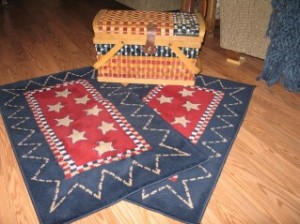 Shop.  They were having a "red, white & blue" sale.  I scored two nearly new 2′ x 3′ rugs, which will work in my entry, kitchen or mud room.  The rugs were just $3 each.
I fell in love with this beautiful, big, fabric lined picnic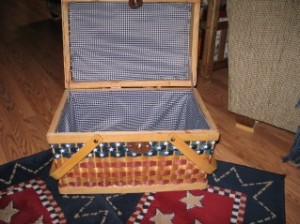 hamper, too; but I couldn't quite justify buying it.  My sweet Dani bought it for her Daddy and I as an "Early Fourth of July gift"!!!  What a treat!!!!  My mind is already beginning to spin the ways that I might use this great basket in our living room or school room.
God bless you as you look well to the ways of your households!
Proverbs 31:27