I took dinner to Corin and her family today and got to spend a bit of time (not enough!) holding my precious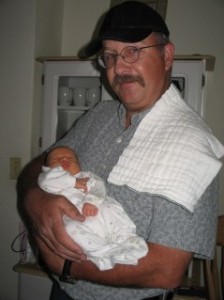 grandbaby!  She's just sooooo tiny!!!  She's still a bit "orange", but that sort of jaundice is quite common for babies fed with mother's milk.  Corin calls her her "tang baby"!  Too cute. Before I took my turn holding her, my husband snuck a few cuddles.
The first time I saw her I was struck by how much she looked like Corin as a newborn!  At just a few hours old, I thought she was the spitting image of my first born child.  Today, though, I began to see some differences.  I still think she looks very much like her mother as a newborn, but she has a bit of her own unique self beginning to show, too!
I am so thankful to the Lord for bringing Corin through the surgery with no complications and for her to be doing so well.  I am so thankful for His bringing us this precious tiny baby girl as our fourth grandchild.  He is so good!