German Pancake is one of my family's favorite breakfast-for-dinner dishes!  It would also make a wonderful brunch dish.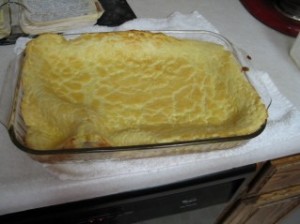 It's really more of an egg dish than a traditional pancake.  The pancake puffs up and can almost look semi-souffle like.  The pancake itself is quite good, but the thing that makes this so great is the homemade Buttermilk Syrup that is served with it.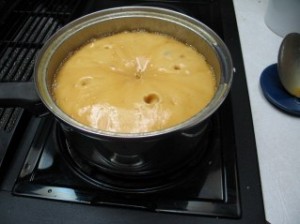 Please, if you are going to make this recipe, you MUST make the Buttermilk Syrup to serve with it.  It really and truly makes the dish go from plain to fabulous. The syrup is easily made in one pan, and is ready, start to finish, during the time the pancake is baking.  The only thing to keep in mind when you make the syrup is that the baking soda will make the syrup expand several times while it is cooking.  Use a bigger pan than you think you will need!  It is fun to watch the syrup expand up and bubble away almost like molten lava, and then to watch as it turns into a deep, rich golden brown.
I usually serve this with sausages or ham to make it a heartier meal.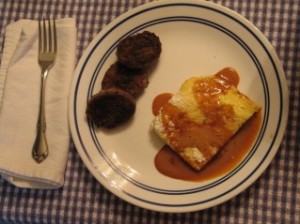 I pour the syrup into a lovely, small vintage pitcher so that everyone can use the amount of syrup that suits them best.
GERMAN PANCAKE AND BUTTERMILK SYRUP
German Pancake
6 eggs
1 cup milk
1 cup flour
1/2 teaspoon salt
2 Tablespoons butter, melted
Powdered sugar
Buttermilk Syrup
1 1/2 cups sugar
3/4 cup buttermilk (I use buttermilk powder and water and it works great)
1/2 cup butter
2 Tablespoons corn syrup
1 teaspoon baking soda
2 teaspoons vanilla extract
Place eggs, milk, flour and salt in a blender and blend until smooth.  Pour the melted butter into an ungreased 9 x 13 baking pan.  Add the batter.  Bake, uncovered, at 400° for 20 minutes.
Meanwhile, in a large saucepan, combine the first five syrup ingredients.  Bring to a boil, and then boil for 7 minutes.  Remove from heat.  Stir in vanilla.
Dust pancake with sifted powdered sugar.  Serve immediately with syrup.
Please note: All original written material, photographs, recipes and tutorials on this blog are the sole property of the author and may not be copied, in whole or in part, or re-printed elsewhere, without the express written permission of the author.  Recipes, of course, may be copied for your own personal in-home use!