My mom collected Roseville and  Hull pottery.  She was inspired to collect by her only brother, my Uncle Bob.  While she was still living, she bought me a few pieces of Hull and Roseville, and we enjoyed following the market and watching how valuable our "dime store" pottery was becoming.
We were visiting my husband's Grandma's house one day many years ago.  I don't remember the occasion that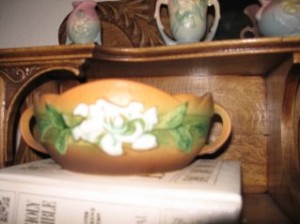 brought us there.  Copper's step mother, at one point during the evening, mentioned that Grandma had a pottery bowl on her back patio that she kept her gardening gloves in.  She wondered if it might be a Roseville piece.  We looked.  Sure enough!!  Grandma was keeping her gardening gloves in a Roseville pottery bowl.  I went home that evening and checked the bowl's value in one of my then current price books.  The bowl was worth about $75!   I called Grandma and let her know.  Next I knew, she had carefully washed the bowl and had placed it under her bed!  Now, I would rather she have kept it on her patio with her gloves in it than hidden away under her bed, but that was Grandma!
I'm not sure whether or not she ever brought the bowl out and enjoyed it.  I do know that this last Christmas Grandma gave the bowl to me.  I remembered it at once, and I was so touched that she would pass along her Roseville "garden glove" bowl to me!!
This afternoon we will lay Grandma to rest.  Everytime my eye rests on the bowl, I will remember Grandma and giggle about her keeping her gardening gloves in that bowl.  I will remember her gardening skill and the orchids on her patio, her beautiful roses and the long-gone apricot tree that produced apricots by the truckload.  I will remember her great laugh and her wonderful ability to laugh at herself.  I will remember the Christian legacy that she has left for her children, her children's children, and in her case, even her children's children's children's children (my grandchildren)!   I'm going to miss Grandma Golda.
God bless you as you look well to the ways of your households!
Proverbs 31:27